Welcome To My Website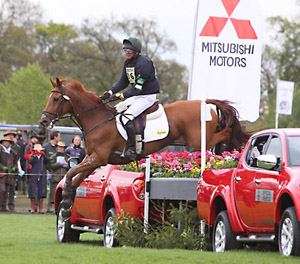 Rolex update – read Emily's blog for more
Womble and Emily have arrived at the Kentucky Horse Park, after a good trip. Bill is due to arrive imminently – after a close call with his flight!
I am a professional event rider, originally from Australia but I have been based in the UK since 1994. I came to the UK to pursue my lifetime ambition to succeed in my chosen career. As with all things equestrian it's been a rocky road with many ups and downs – however I'm still going strong and love what I do.
I've been lucky enough to enjoy success in my career to date with top 10 placings at four star level – Burghley, Badminton & Luhmuhlen, and this year realised a longstanding dream of representing Australia at a Championship, the 2014 World Equestrian Games.
I hope to give you an insight in to the life and career of a professional event rider and all that's involved in 'Team Levett' – the highs and lows, the funny moments, and the detail that goes in to helping me be at my best on competition days. Bill