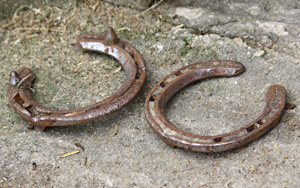 I've had a busy couple of days at Brigstock and am back again tomorrow. It's an event I always like to go to at this time of year as I feel even when the ground starts to firm up, at Brigstock the ground is still good and rides well (akin to Barbury). Hence I've made sure all the horses have had a run.
I had Alex and Tommy yesterday in the 5Year Old qualifier – sadly neither qualified but they both went well. Tommy jumped a double clear and I thought did a good test – but the judge didn't agree! He is still a little green but I thought he had gone well; it transpires the judge marked him down for his tongue being out (which he did without me seeing or feeling!) I will nip this in the bud with changes to his bitting and noseband – it's very fixable. Alex was a little green in the dressage and then had a green stop at the planks in the show jumping but jumped the rest well and also went well cross country. So no qualifications but good educational runs for both horses and I was pleased with both of them.
Harry did the CIC* dressage. I've radically changed his warm up which seems to be working as yet again he scored well with a 42.1 which put him 2nd after dressage in a large field. Let's hope this form continues at Houghton! I withdrew after dressage (always the plan) given he is running at Houghton next week.
I had Fin and Figgy today and Mary had Keedy and Jenny Buzz. Mary had a good day a good double clear although still work to do in the dressage. She is now gaining in confidence with Keedy and they are going well together and having fun, so important. Jenny only did the dressage on Buzz as he's been off for a few weeks with foot issues, which we hope are now behind him and it's early days with his new shoeing etc.
I was very pleased with Finn he did a good double clear and felt like he's really growing up. I just let him canter around in a nice rythmn – maybe I should have gone a little faster as he would have been in the top few without time – his day will come and he will win a lot in the future.
Figgy had a very good day and was in the money. I've always said I will one day win a lot with her. She was 2nd today in the Novice with a 27 and double clear. She's an elegant big mare and we are begining to really build a partnership; she is settling more and more as she gains confidence and understanding of her work.
I'm back tomorrow with Coco who will do the 2star dressage and Magnus doing the intermediate – a beefy track.
Off to a fellow riders engagement party tonight but won't be a late night as its another 5am departure time tomorrow – the joys of an eventriders life!
Cheers,
Bill
Posted 22nd May