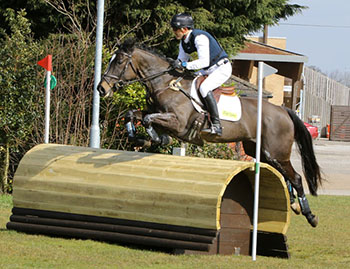 I'm traveling back after a long couple of days this weekend at Lincoln. Today we had a few of the older horses – Natty, Dotty and Womble. It was a much nicer day than it was on Friday which made things much more pleasant, with blue skies and sunshine.
Firstly, I will have to say that Dotty was the star of the show today, doing a fairly good test and jumping double clear with just a few time faults cross country to finish in 2nd place in her intermediate section.
After our mishap at the end of last season at Kelsall Hill it's thrilling that she has come out and done such a good job. Her owner, Vanessa, has been so patient and it was great for her to be there today with her daughter Alice and watch her go.
Womble had a good prep run for Fontainebleau, leading the AI dressage and having another steady run round the cross country to finish fourth.
Poor Natty had an unfortunate day. She did her best dressage test to date and jumped another lovely clear round in the showjumping, but sadly on the cross country she had a little spook at a fence which put her off her line to the next. The upshot was I went one way and Natty went the other. She had given me a great ride until then and I'm sure with a cross country school to make sure her confidence hasn't been bothered she'll be back trying hard again at Burnham market.
Cheers,
Bill
Posted 20th March