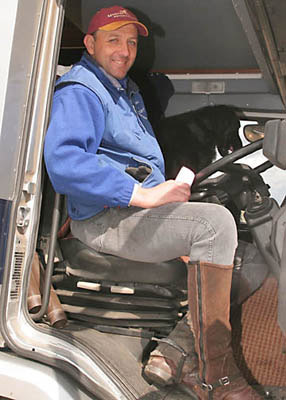 Today has been a good day. I went to Shelford Manor early this morning; it's a new event for me and I was riding Tommy, Alex and Fin. It is near Nottingham, and they had made a lot of effort to ensure the best possible going – they had irrigated the dressage warm up arenas and the ground wasn't too bad especially given the recent rain. It is a fairly flat venue but they had made the most of the ground as there were a few fences set on rising and falling ground on the cross country that were educational for the young horses.
The show jumping was inviting and the cross country was fairly straightforward bar a skinnier fence down an incline to a rail through a wood to a log drop step off fence.
My owners and Jenny all had a good laugh at my expense as I firmly told them I nearly had three wins today. The facts support me on this! All three horses did sub 30 dressage scores to lead their sections (look what happens when I go away for a week!) and then jumped clear show jumping rounds, so all that was left was for me to canter around the cross country course.
I did this successfully on Tommy and he won his section, I was a little slow on Alex and got a couple of time penalties dropping me to third and on Fin I had 20 penalties, not for a stop or refusal but rather for a spoke at a pile of stones between two fences that put me off my line! Sadly Fin had the best dressage mark of them all, a 25 – his day will come. I was really pleased with all three horses – I like all of them very much and it is nice to be riding such quality young horses. All of them feel like they are growing up a bit and Tommy seems to keep his tongue under control with the help of a grackle – all good!
It was a mad dash turnaround to get home from Shelford Manor as I wanted to school Bella on the flat late this afternoon and we needed to finish packing the lorry for Bramham. We are nearly sorted, I just need to shop for food late this evening and then we have a very early start to drive up to Bramham tomorrow morning to be there in time for the briefing. Bella is number 24 so we will have dressage on Thursday I expect.
I shall keep you posted on our progress, I'm keeping my fingers crossed that Bella will cooperate with me in the dressage – watch this space!
Cheers,
Bill
Posted 1st June