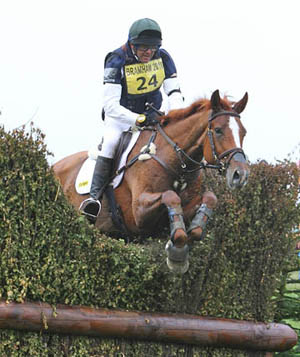 I've just finished the cross country with Bella at  Bramham and I'm pleased to report that I had a cracking round. She has definitely redeemed herself! I decided I would go all the straight routes as I felt she was ready for it and that it would be a good test to see if she's ready for a four star, maybe Burghley. I also frankly had nothing to lose after my dressage but we won't dwell on that today!
I couldn't be more pleased with her, she tried really hard and answered all the questions I asked her and just kept galloping. The course caused a lot of trouble and only a couple had got around when I set off – I decided to stick to my plan.
The first water complex, as I said earlier in the week, wouldn't have looked out of place in a four star and I was thrilled that she went so well on the direct route; she is great on a line and she just kept coming and trying for me. I understand that only a couple of other people took on this route and it was definitely not the conservative option  but it did save a lot of time and allowed you to not have to pull the horse around too much early on.
My 'hairy' moment came at the big open ditch brush after the step up to hedgehog. She jumped the step up and hedgehog well but then really backed off the ditch and I had to ride hard to get to the other side. She is not a ditch lover at the best of times and this was a 'big one'. There are several other big ditches on the course all of which she coped with well and this was my only really hairy moment.
I found the two skinny brushes near to home tricky; they were on two long strides with the ground sloping away and the horses getting quite tired by this stage. Bella thankfully is great on a line and has a scopey long stride so coped well with this fence. I also found the double of brush boxes quite a punishing fence to ride as it was a big 'in' fence which got the horse up in the air but the ground ran away on landing leading to the possibility of a stumble especially near the end of the course – Bella was fine but it wasn't a great fence to ride.
Overall I think Ian Stark has built a great course and I very much enjoyed riding it (I would say that wouldn't I!) and the ground was also very good for this time of year. I'm very grateful to the work they'd put in watering it and aerovating it and making sure it was as level as possible.
Bella seems to have pulled up well, she is having a rest after being cooled off and checked over, and then iced several times (on her legs) , she will have a massage and more icing later today as well as a pick of grass and leg stretch in hand.
I'm off to have some physio as my back and various other bits of me get a bit sore and pulled around on a track like today – old age, I have to admit, so I like the horse take some managing!
Cheers,
Bill
Posted 5th June