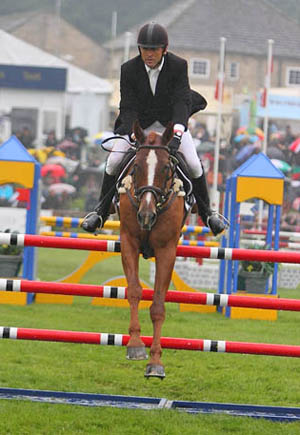 We were up bright and early this morning to jog Bella up. She looked good, if a little tired and stiff which is unsurprising after a big run yesterday. I took her for a half hour leg stretch before the trot up and she had the game ready (cold therapy) machine on just to help with any concussion/bruising post the run – this is routine that we do all the time post galloping and jumping.
The trot up was uneventful – always a relief, and I then walked the course and had some physio for my own aches and pains. I thought the show jumping was a fair test, the distances were all nice and the track looked OK if a little 'poley'.
I watched the young riders and then went and reorganised some of the lorry for the way home and spent some quiet time thinking about how I would ride Bella's round.
In short Bella jumped well; she had one down coming out of the double. The line was a triple bar on a forward 5 strides to a double of an upright two strides to an oxer. She had the back rail of the oxer coming out. I'm a little cross with myself as I had thought of going down the line on 6 strides but given she has a long stride and the 5 seemed to ride well that's what I did. Who knows if that's why she had the rail. The great news is that she felt and jumped well. I've always believed she is a jumper and she's been a top in that department all weekend.
She ended up a credible 18th I think. It's back to the drawing board with the dressage, particularly as I feel she's ready for Burghley in the jumping phases. We will regroup once home and make a plan with her owners.
Eleanore and I are making a mad dash home, as is Jenny as we have a leaving party for Vicky tonight. She shortly departs for a stint in Australia working on a thoroughbred stud through contacts of mine. We will miss her BUT, as with all things, nothing stays the same and we've planned for this for four months. Eleanore is more than ready and capable of stepping in to Vicky's shoes.
I'm looking forward to a few weeks at home and putting some concentrated work in to Figgy, Magnus and the young ones and also Hipp and Tim will start some light schooling again this week.
Cheers,
Bill
Posted 6th June