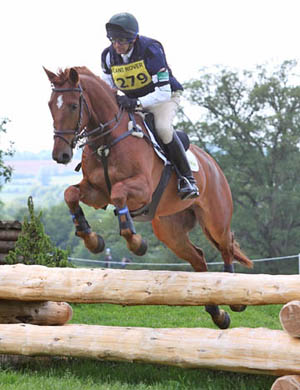 We're just back from Great Tew and about to head off out to meet friends and watch the first England game in the world cup! I had a good day – all my horses went well. It's a local event for me which is always a bonus, BUT it is also a lovely event, set in a lovely old estate with some of the most beautiful trees I've seen in this kind of set up. The trees also, on a practical note, provide great natural shade on a warm day such as today.
Alex, Tommy, Fin (pictured) and Moose all went well in the dressage, trying hard and for Alex, Tommy and Fin they are really becoming much more established in this phase – particularly Fin, who is 6 and therefore slightly more mature physically and mentally than Alex and Tommy. It was my first competitive outing with Moose and I didn't know what to expect – he tried really hard in the dressage and for a big horse coped well with maintaining his trot and particularly his canter in the constraints of a small dressage arena.
All of the horses show jumped well; the track was not as colourful as it has been in the past at Great Tew which in some respects was disappointing as I prefer the colourful fillers to the more 'poley' tracks.
The cross country is beautifully built with 'mini Badminton/Blenheim' type fences, great designs and dressing and interesting combinations set on undulating terrain, so a very educational experience for a young horse. All four horses went exceptionally well cross country and clear, with the exception of a small blip for Tommy when he spooked at a fence judge and their car and hence ran past a fence! Never mind he will have his day. The good news is that they all  felt great and I really think they are a quality team of horses to produce which is very rewarding.
Fin won today, which was great as he should really have won last week! So I'm glad I could rectify things for Francis, his owner, after our blip (spook) three from home on the cross country last week when well in the lead. Fin has a couple more runs at BE100 and will then step up to Novice which I feel he is mentally and physically ready for.
It's always interesting riding a horse for the first time as you never know what to expect. Moose was pleasing in all three phases and I think once we've built a partnership together we could be a very competitive combination – time will tell, exciting.
Finally Great Tew was a bit of a 'family affair' today as Jenny rode Buzz for the first time in a while and the kids and my parents came along in the afternoon. Buzz and Jenny did their usual good dressage and Buzz was pleased to be out, verging on looking excited which always helps his marks! He got a score in the 20's – not that I'm bitter or anything! Anyway she then had one down show jumping and a good cross country but has got to learn to go faster to be in the money!
Great Tew is a great event for families. Josh and Ursie spent most of the afternoon in the bouncy castle complex which is a real bonus for kids and makes this an event for us to always have on the list as it's fun for the kids to be able to have a good time and not just be watching daddy ride around on horses! All in all a good day out finished off with lovely fresh baked pumpkin scones from my mum – it doesn't get much better than that.
Cheers,
Bill
Posted 12th June