I just had Figgy at Great Tew today in a Novice section and I had very kind times, my dressage wasn't until 2.20pm. So I got to have a rare morning at home with the family, a leisurely breakfast followed by fun and games with the kids.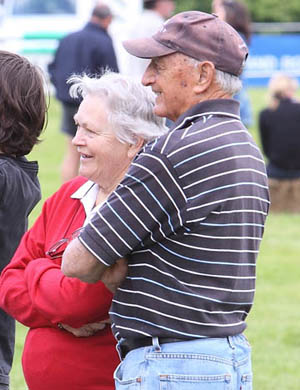 Part of the Levett routine is that every morning before breakfast we trot up whichever horses may need to be looked at and this list is always agreed the night before so that the girls don't turn them out first thing. We always look at horses who have run the day before or been to the gallops or cross country schooling, or a horse that might have an issue we are monitoring, or any horse in the last month in its build up to a three day event. It's been part of our routine for years, as is Jenny and/or our head girl checking the legs of each and every horse in the yard every morning.
The funny part of this story is that  the trot up happens before breakfast and now that the kids are older they like to get involved, so we all go outside looking like a very odd collection of individuals as the attire can be anything from PJs, to riding gear to going to London suits! The girls who work for us are all used to it but  whenever someone new starts it always raises a few eyebrows, especially now that Ursula (who's got a creative streak) likes to dress up in her mothers shoes and other paraphernalia.
This morning the kids had a good ride on their ponies; they are getting pretty effective at riding the ponies independently, apart from the jumping where they're not that secure so Jenny and I get a good workout when they want to jump endless courses. I made the stupid mistake of making a course all over the school today which I paid for 30 minutes later when they were saying 'more, more' and I was huffing and puffing.
After the fun and games with the kids it was a quick bite to eat and then my parents and I went to Great Tew while Jenny took the kids to a party. Figgy went really well she finished a pleasing second – I was glad that she was able to consolidate on her good placing at Brigstock. Sadly Harriet and Ann, her owners, couldn't make it at the last minute to watch her but she did them and me proud. She tried hard in the dressage where she is getting more secure. There is more to come and she will do a cracking test; she is a big tall horse and she finds keeping her balance within the constraints of a dressage arena challenging. She jumped  beautifully for a double clear and I opened her up as the ground was good and held up well despite the drying wind over the weekend, and we were just pipped at the post by Daisy (Berkley).
I thought the Novice course at Great Tew was well built and inviting, suitable for a first time novice in my opinion but it did cause more trouble than I had expected, particularly a house on a related four strides to a corner. I'm still not sure why but it did! The time was not easy to get on either track this weekend so I opened Figgy up as she is more than fit enough and has a long stride and so she got the time and hence did well. Figgy has a couple  more Novice runs before making the step up to Intermediate which I think she is ready for, and aiming for Hartpury CCI*.
Anyway I know I'm dull but I'm off to watch the Australians play football tonight. I have the credible excuse of supporting Australia and England given my dual nationality and so that's more football for me, not that Jenny could care less about the footie.  It's been a good weekend and long may this 'purple patch' continue!
Cheers,
Bill
Posted 13th June