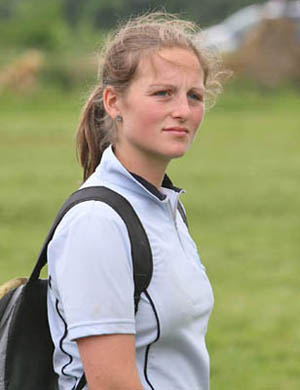 After a productive and busy weekend at Catton Park we are all feeling a little sad today as Vicky has just finished up with us. We are both sad and also excited, as she has decided she wants to see the world and in particular Australia – of course I'm biased, but in my view she has excellent taste! She is off on a well deserved break in Turkey with her boyfriend and is then flying out to Australia to work on a thoroughbred stud in a job I've helped her to find through a contact of mine. I'm sure she will have a fabulous time and we hope to hear all about her experiences over the coming months.
In the meantime Eleanore will take over the reins and things will proceed smoothly. As is the case with most things which my wife is in charge off at Little Charingworth there has been much planning going in to this transition and Eleanore and Vicky have been working alongside each other for much of this year. We will miss Vicky very much as we are all a close knit team and she has done a fantastic job for us, but we are also very confident moving forward with Eleanore at the helm.
We also welcome some new and returning faces to Little Charingworth. Katie who has worked for us on and off during her holidays from college for the last year or so is joining us full time starting this week, as is Rebecca who has been most recently based with Sharon Hunt. Nothing ever stays the same, but Team Levett will continue to move forward with the emphasis on 'team' remaining at the core with the new members coming on board.
I'm off to the gallops with Hipp, Tim, Coco and Harry this morning which I'm looking forward to – all four of them are 'ramping up' their workload again which feels good.
Cheers,
Bill
Posted 21st June