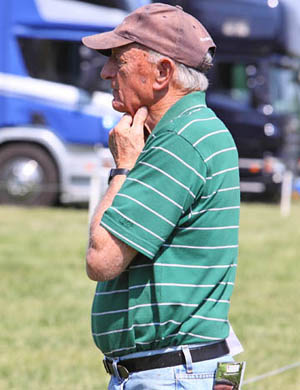 I was lucky to only have one horse, Figgy, at Salperton on Sunday and luckily for her and me we had already decided not to run her cross country as she's been going well in this phase and has had a couple of quicker runs on firmer ground. So I was not subjected to a second day of riding in the sweltering heat.
Jenny and I decided to start riding at 5.00am to avoid the worst of the heat – a benefit of having my parents staying is that we could both be out of the house before the kids woke up. It was a beautiful morning and a very civilized start with Jenny riding from the get go and me sitting in my chair in the school with fresh coffee and a beautiful sunrise! We got a lot of the horses worked before the heat of the day which was good.
We then had time for a family lunch, a rare treat in our household which is best described as chaotic most days. We set off for Salperton after lunch and it was rather a family outing with Joshua, Ursula and mum and dad in the lorry and Jenny's mother following in her car. Jenny decided to use the peace of an empty house to catch up on entries and book work.
All had a good time, not least Joshua and Ursula who managed to persuade Pop to buy them two ice creams each given it was so hot – what a soft touch he is! Figgy warmed up well for her dressage but got a little tense in the arena, she is improving all the time but is still not as settled as I would like. We'll keep working on it together and it will come – she is a lovely mare.
We picked up a new horse for the girls to gain experience on; he's called Bob (Bobcat) and belongs to Amy who I give lessons to. Bob and Amy have competed up to 2 star level but he is now looking for a slightly less strenuous life and so the girls will ride and compete him with training from me. They should have a lot of fun and learn a lot.
It was then home to cool off and catch up on the Hickstead Derby before an early night for one and all as we've got a busy week ahead of us. Hipp and Tim are at the gallops on Monday, Tracy the saddle fitter is here on Tuesday along with Maggie our physio. I'm giving a cross country clinic at Swalcliffe on Wednesday evening and am then  off jumping at Weston Lawns on Thursday to get some match practice in with  Hipp, Tim and Harry. It's then back to the gallops on Friday with a lorry load as the horses are all back in their canter programmes for their respective target events.
Magnus and Figgy are aiming for Hartpury two star and one star respectively, Coco is making the step up to Advanced at Aston and is going to the Intermediate Championships and Harry is going to the Novice Championships. Bella and Tim are aiming for Burghley, and Hipp – who knows, I'm not looking too far ahead but in the near term focusing on Barbury and Hartpury as important selection events for my own personal goals and in the back of my mind, the WEG.
We all know with horses that you cannot plan too far ahead and ALWAYS have a plan B (and C and D) so above is an outline of plan A but there are plenty of other options depending on what the next few weks and months present.
Cheers,
Bill
Posted 28th June