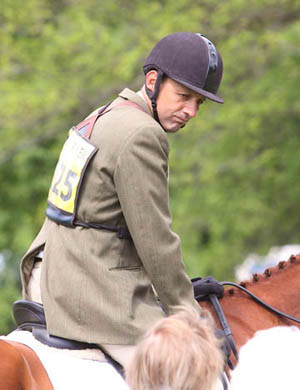 Today I was at Shipton Moyne with Alex and Tommy and a catch ride Dan all doing the BE100 class, although Alex was in the 5YO section trying to get that elusive qualification for the Lycett 5Year Old Championship class.
They had worked really hard on the ground with all take offs and landings sanded and the course had a lot of variety for young horses. One fence which was verging on challenging for youngsters in the BE100 was the first water – a sharp left hand turn coming down hill to a water jump with a step off into water – I myself fell victim to it and had the walk of shame home on Dan which was frustrating. A lot of horses faulted at the fence with a lot of eliminations and 20 penalties. I understand that next year the organisers plan to change this fence to give a softer alternative option so that horses are able to get further around the course than fence 6.
Tommy continues to go well and show consistency, scoring a 29 in the dressage and then jumping a nice double clear but I took him steady on the ground. Alex also went well with an unlucky last pole rolled in the show jumping. With the pole I didn't think he would have a chance of qualifying so I also took him very steadily around the cross country. He jumped a nice clear.
Away from Shipton Moyne preparation for Barbury is complete with Hipp and Tim doing their dressage tomorrow morning and Harry also joining them for his dressage and an excursion to Barbury tomorrow. Bettina is over in the UK for Barbury and so is going to be helping me warm up with Hipp and Tim which will be great. It's going to be a busy few days and I'm hoping for a good event and to do Team Levett proud. I'll report back each day.
Cheers,
Bill
Posted 7th July