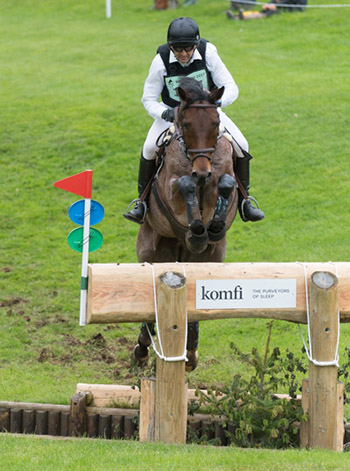 Travelling back from Bramham after two days of doing the CIC3* with Tommy and Sparkles; all in all it was a very good trip. They are both inexperienced at this level – it was Sparkles first CIC*** and Tommy's second! So it was a fact finding mission with two lovely horses to an event I really like. After solid dressage scores, where I was very pleased with how both horses went in the atmosphere which is quite 'busy', they were both inside the top 10.
Tommy had one down show jumping and Sparkles jumped clear. Both jumped super rounds and I was very pleased with how they went and felt confident in how I rode them. All the preparation and training with Ros M is beginning to pay off – plus I'm lucky to ride two such lovely horses.
Going into cross country they were in 10th and 11th positions, which out of 77 starters was good going. The course was a strong three star with lots of questions and you had to attack it otherwise you might find yourself in trouble.
Tommy dug deep and jumped around clear for 14 time. Really holding his lines and doing everything I asked of him, it was a tough ask for him as he prefers to run on the top of the ground. Whilst it did hold up well it was beginning to get a bit deeper and more holding (but not holding) having had so many runners and a wet morning. Sparkles was the same, not putting a foot wrong except at one fence, and to be honest I am still mystified what happened, as the rest felt so good. Anyway I will put the blip down to greeness and move on.
Bramham is a great event. They set the lorry park and facilities up really well, and the site really works, but you definitely don't want to bring a green, nervous horse here, or one that lacks stamina or gallop. Anyway nearly a great day, but I am sure in the future we will have even higher finishes. Exciting futures ahead for both horses.
Cheers,
Bill
Posted 10th June – photo © Trevor Holt