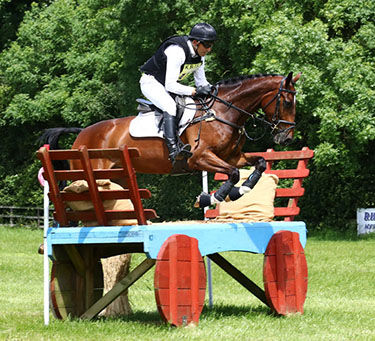 Early start this morning, particularly for Ryan who had to get up at 2am to feed and get horses ready for our 3am departure. I had 3 of the 5 year olds down at Nunney which was a bit of a trek, but going down was quite easy as there was no traffic on the roads. It seems always for us that if we go south for events the roads and the traffic are always more of a problem.
On saying that Nunney is a lovely event and a lot of effort goes into the courses. The BE 100 track was very educational and quite strong in technicality – I've been round some novices that would have been easier. It's good to have Ryan out for his first day grooming. Both he and another newish member of staff, Allie, are going to be going to a lot more events with the young horses.
All the babies were slightly green in the dressage but I felt they were doing better tests than they have previously done although the marks did not reflect that. We had Donald (pictured), Jake and Truffle there. All jumped clear cross country, showing they are going in the right direction, with only Jake having an unlucky pole in the showjumping. So all in all a very good day at the office! And I must say from my point of view it is a lot easier to get them round the courses as they seem to understand their job more now.
Until next time,
Cheers,
Bill
Posted 16th June