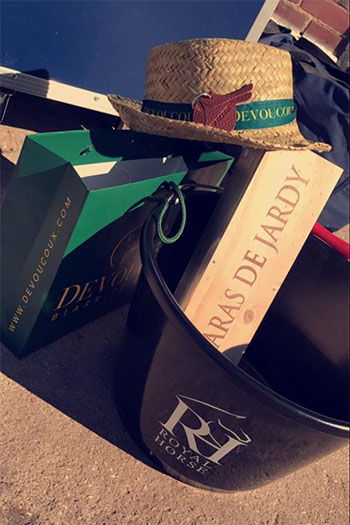 I'm travelling back from Jardy after a mixed weekend. Tilly, Kaye (Tilly's mum) and I travelled out on Wednesday night and after some satnav difficulties we eventually arrived at the event. Jardy has a nice feel to it and the organisers are very helpful.
We had Alfie and Sparkles with us, with Alfie doing the ERM and Sparkles the three star. Dressage went well with both horses putting in solid tests which I was happy with. Alfie achieved a 40 and was lying 12th in a very hot field with the marks tightly grouped so all to play for. Sparkles did a 46, with the leader on 42 and I was pleased with his work although it wasn't as good as Barbury – but it still put him in the top 10.
I then really let Alfie down in the show jumping in what was an up to height track with time being tight. I put him on a bad stride to a fence towards the end of the course which culminated in me having a few down and dropping down the order. I am mortified and so upset that I've let the horse and owners down. We decided to withdraw him and save for another day we'll reroute to Gatcombe.
I gave Sparkles a better ride in his show jump round and he jumped a lovely clear in the time to move up to second before the cross country. The show jumping and dressage at Jardy is all on a surface which is great, and although they had worked on the cross country ground it still was not great, although good for the time of year. For me it is the main concern when running a good horse – so we withdrew Sparkles as well and will hopefully reroute to Aston next weekend in the 8/9 Year old class.
So as you can see it was a mixed day/weekend for Team Levett. But we live to fight another day and hopefully it won't be too far away.
Cheers,
Bill
Posted 16th July