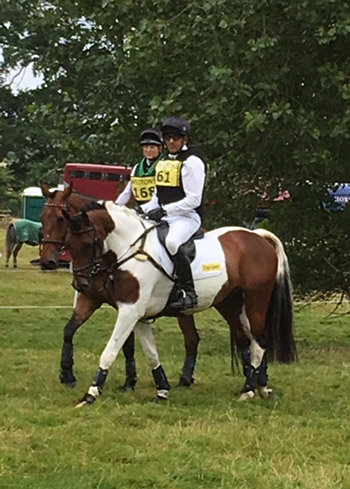 As we drove out of Little Charingworth Stud this morning, the rain ripping down, it was with trepidation that we headed to Homme House with 7 horses. Fortunately it was only really wet for the drive down and right at the end of the day which was a real relief, as to event in really heavy rain is not very appealing.
Homme House event is on really old turf and it's quite amazing how much rain it can take before the ground begins to deteriorate. We are back at Homme tomorrow with another lorry load and I hear on the grape vine that there is a lot of heavy rain predicted, so maybe tomorrow the ground will get worse.
The showjumping track was colourful enough and clear rounds seemed to be few and far between. I had Nia and Tara doing the Novice and they both stepped up to the plate and produced double clears which is good for them as they are relatively inexperienced at the level.
It was nice to see Noor's (the Moroccan rider based with us) horse Tonic start to show confidence around a novice track. It looks like everything is going in the right direction. Jenny had Ricky there and he was quite quirky and keen to be out, loving life! I think Jenny's plan is to go to Blair 1* so a couple of runs now will be ideal to set him up for that.
The other 3 horses that we had out were Donald, Jake and Smurf who were in the 5yo BE100 section. I thought they all went well in their dressage tests although Jake didn't score all that well so when I'm back there tomorrow it will be interesting to collect his sheet and see why the judge didn't mark him better. Both Donald and Jake were unlucky to have 1 showjump down and Smurf jumped clear.
They all felt super in the cross country, really on it at all the different types of fences and, because the ground was nice and forgiving, I pressed on and got the time on all of them.
I did think the angled beehives in the Novice were a little too strong as there was no option to circle. Also one of the distances for the house-ditch-house seemed to ride on 2 and a half strides every time I went through it. I'm not sure why but it just didn't work and another similar combination a few fences later rode similarly and was neither one stride nor the other. Overall I like the variety of fences and that they can fence it up every year.
That's all from Homme House for one day, no doubt there will be more to report tomorrow.
Cheers,
Bill
Posted 8th August