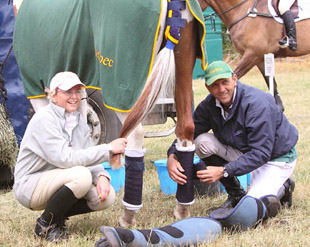 I'm just come back from one of our local events Ascott Under Wychwood. We are very lucky to have several good events in close proximity to us which I really appreciate as I hadn't realised when I decided to be an eventrider that really I'd signed up to be a long distance lorry driver!
Back to Ascott, in short it was a cracking event. They continue to raise their game and I would recommend it to anyone. The ground was excellent, Chris Badger had been watering for weeks and it showed. You couldn't fault the ground and the courses were interesting with lots of variety and educational challenges for horses and riders. I do hope the effort they've gone to is recognised by people and that they are rewarded with healthy entries on an ongoing basis.
Jenny and I went to Ascott on our own which was a nice day out (most of the time!), as Eleanore's sister was getting married and Darian had her 18th birthday so they were both away for the weekend and we didn't want to leave the yard at home short staffed. It's good for us to do our own horses at events, in fact I enjoy it as most of the time I'm racing from one horse to another so it's nice to get time around the horses, looking after them rather than just riding. Mac (Mr Mackenzie) went really well, he's such a gentle polite horse and very keen to please. He's been well produced without pressure by Theresa Harper his previous owner and it shows. I was very happy to get a 22 dressage with him, jump a double clear and secure a win with him. I think he's going to be a lovely horse for Jenny and I to produce.
Jenny had Buzz there and they went well, winning their first rosette together as she finally got out of first gear around the cross country course!
I also had a catch ride on a horse called Dan belonging to a friend of ours and I was pleased to run 7th with him jumping a double clear as my previous ride on him I'd had to walk off the course at Shipton Moyne after getting eliminated at the water! So the pressure was on for both Dan and I to redeem ourselves.
There is no rest for the wicked as Jenny and I went cross country schooling with three horses on the way home at Lyneham, another good local facility. I was giving Magnus a school over skinny fences after our blip at Barbury and Jenny had her spotty pony Blue who is making his Intro debut next week at Aston. Magnus was a good boy; I've had several sessions in the school at home this week with narrow fences to get him focussed on staying straight and not ducking out at skinnies so I'm hoping the obedience training has paid off.
Magnus's blip was a good reminder to me that horses are not machines. He had never had any cross country faults of note, the odd 20 for having to do a circle, and had never known he could run out, or tried it, so now that he had I needed to show him that it wasn't a good thing to do. My point is that sometimes things going wrong can be helpful as it can then allow you to teach a horse a lesson about what it needs to do. If everything always goes swimmingly they are not tested and then if and when you end up in a tight spot or with a difficult question they may let you down.
So all in all a good day at Ascott Under Wychwood and I'm looking forward to a day at home tomorrow with the kids and Jenny and no riding, a rare treat. Weather permitting I may even get the barbie out as Jenny's family are coming over for the day.
Cheers,
Bill
Posted 17th July