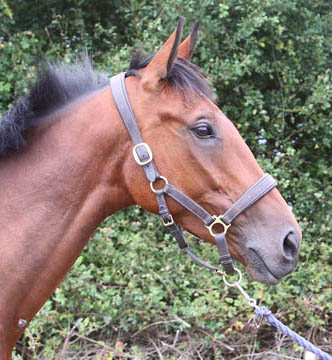 After a lovely day off on Sunday spent with the kids and family it was back to work with a bang yesterday with horses to take to the gallops, lessons to give and horses to school – but even a 24 hour breather is a good refresher and the kids had a great time riding Slipper, their new pony, and also Basil and Peggy got a work out as Joshua and Ursula's cousins are all quite keen pony riders. Unsurprisingly the girls stuck at it for longer than the boys and really got stuck in to riding around the school whereas the boys soon got distracted with turning some of our show jumps in to a pirate ship with cannons etc!
I've had some slightly better news about Hipp as working through the detail of a rehab programme for him, I've come to the realisation that if all goes well with his rehab I will be able to give some concentrated time to improving his dressage next year which would be very beneficial as if he has a weak phase that would be it. So at least I can have that in my mind to look forward to – although Jenny jokingly said 'so if you dressage him all of next year you can then head to Badminton in the Spring of 2012 and we'll expect a sub 40's dressage score' So the pressure's on!
The other good  news is that I have a new ride, Womble (pictured), a smart young bay horse by Master Imp. His owner Ali Butler is a vet and on hand at many BE events up and down the country to pick us all up if we bite the dust. Ali and her husband Sam live locally and Sam is master of the local hunt the Warwickshire. I've taken Womble cross country schooling a couple of times over the last few days as he's been a little naughty of late for Ali. He's definitely got many of the typical Master Imp qualities including the physical stamp and slightly quirky cheeky temperament; I'm also hoping he's got the talent in equal measure! I think from what I've already discovered about him he is going to be a horse that thrives on routine, work, and firm boundaries being established. We will see how he develops but he will be a nice project and my gut feel is that at a minimum he will make a good two star horse.
The other key activity this week is sorting out our hay and ensuring that we purchase the best we can from our local farmers at the best price and get it in the barn as fast as possible before the weather turns. It's always a busy and anxious time of year trying to work out how much to purchase, from whom and when in order to try and buy as much and of the best quality as possible without killing our cash flow – one of the many varied aspects of my career.
I'm off to Aston at the end of the week with a couple in the Advanced, Bella and Coco, and a couple of Novices, which should be a fun weekend. I'm really hoping Bella will go better in the dressage after the changes we've made to her routine and preparation. I need one more advanced run with a qualifying mark to secure her Burghley qualifications as frustratingly neither her Chatsworth or Bramham runs count due to mishaps in the show jumping and dressage respectively.
I'll update on the goings on at Aston later in the week.
Cheers,
Bill
Posted 19th July