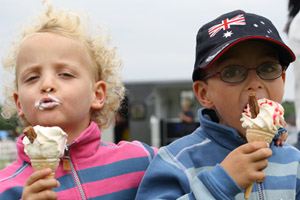 I've just got back from a fun day at Aston, and to be clear the fun didn't involve winning! It was fun because it was a pretty relaxed day with everyone enjoying themselves and most importantly Josh, Ursula and Grace joining us which always provides entertainment. Grace had brought her camera along and Josh at 5 fancies himself as something of a photographer too.  Now that the kids are on holiday hopefully they will join us at a few more events; they are now at an age where they are so much easier to manage as there are a few more things that keep them entertained and they are not quite the liability they were around the horses!
Today was a big day as we 'handed over' Peggy to Joss and Juliette (Gray) for India to enjoy. She has been a big part of our lives since the kids were six months old and for the kids she's always been there so it was a sad day, but happy in that she has gone to fulfill a useful job and be much loved by another family. Josh and Ursula gave her a good polish before taking her to Joss's lorry. At 39 years young she is a real character and I'm sure she will continue to thrive as long as she is used and loved, without being pushed out of her comfort zone – of which we have no fear as we all know Peggy is the boss and simply won't do more than walk and trot IF asked nicely and persistently!
Anyway back to the more serious bit of Aston: I had Coco and Bella in the Advanced doing their dressage today and in short I won't be winning any prizes based on today's performances. Coco was making the step up to Advanced and so some of the movements, especially in the canter changes and the patterns, he's still not secure in but it will come, he's only 8. Some of the trot work was lovely and the walk he anticipated a little – but overall I was pleased and I know there is much much more to come. Bella was Bella need, I say more? I'm continuing to try different things – but we're not there yet. The good news is that she was pleased to be out and a little fresh and 'on edge' (not that that helped my dressage), but it is pleasing that she is giving me the signs that she enjoys her job in the round.
I also had Fin doing his first Novice. He tried very hard in the dressage which was a step up for him and to be frank he's not confident or established in any of the movements but he tried his best to do it right and I was very pleased with him. In the show jumping he went off the boil and a bit green and had a frustrating 4 down but I'm not worried as again it was a step up and a little poley and it was one of those rounds where the rideability wasn't as you'd want it – it will come. He jumped a peach of a round at Purston and the joy (and frustration) of young horses is that there are many ups and downs as they learn their craft. He went very well across country on what I thought was a decent Novice track; I thought Nigel had toughened it up or maybe I'm just getting old!
Nigel and his crew appear to be doing a lot of work on the ground and so I'm hopeful of a run tomorrow with both Bella and Coco. I need one more Advanced qualifying run with Bella to secure my Burghley ticket as frustratingly many of her qualifications from when she was based with me previously are now null and void. I've only walked parts of the Advanced track so will give you a full debrief on the track and how it rides tomorrow.
Until then cheers,
Bill
Posted  23rd July