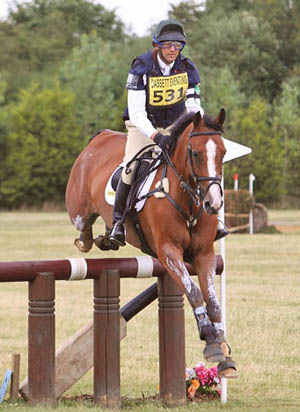 It's been a mixed day today at Aston. In the last 24 hours I had been trying to clarify if Bella had achieved a qualifying dressage mark in the Advanced. She had not done a good test BUT the BE rule book read as if we were still OK, however Jenny and I were not convinced and so sought clarification from the BE officials at the event. They found the rule book equally ambiguous and so Jonathan Clissold kindly agreed to seek clarification from Paul Graham overnight.
We went to bed thinking all was OK, and woke to a text before 6am (we were already up) saying that we were not. As a consequence I only show jumped Bella; she jumped well in what was a poley, square and turn back track with related lines that seemed to cause more problems than one might expect on first viewing. Bella had one down and then I withdraw her – and it's back to the drawing board yet again with the dressage.
Coco tried hard in the show jumping but annoyingly had one down, in the treble combination – however I was still pleased with him as it's his first advanced. I then took him slowly around the cross country. He again went well achieving a nice clear and feeling well within himself. He has now achieved his qualification for Blenheim if we choose to run him there – we will see.
The cross country was a relatively straight forward track, a good first advanced for horses stepping up a level. Nigel and his team had done a lot of work on the ground, watering, spiking and putting down a surface to cover some of the track so overrall the ground was pretty decent given we've had no rain for what seems like forever.
With only two horses I then had a nice afternoon, firstly being able to spend some time with the Kemps who own Bella and Coco and then with the kids who came for the afternoon and we spent a long time watching cross country on the bank. Aston is an excellent viewing course so it was a great place to be able to spectate and relax for a while.
Off to the gallops at some crazy time tomorrow morning with Harry, Bella and Figgy as they are all in three day programmes and then I'm off to Aston to ride Moose in his first Novice while Jenny makes her debut on Blue in the Intro which could be entertaining. We are also going in the infamous green lorry – Jenny's old run around lorry, as the girls have to strip the big lorry ready for its annual plating and overhaul which I need to take it to tomorrow night.
Never a dull moment,
Cheers,
Bill
Posted 24th July