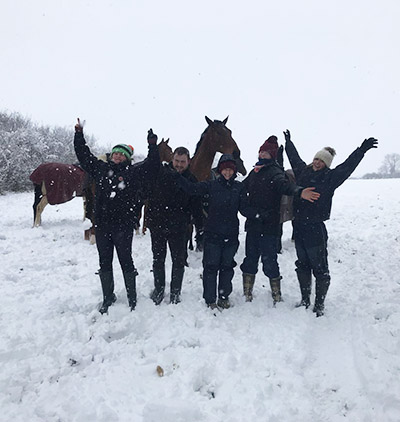 We've not had significant snow to speak of for the last four years but this last weekend it decided to fall good and proper and we've had about a foot of snow in a short space of time.
It started on Saturday night and continued through Sunday – the team (see pic) did a brilliant job on Sunday of making sure everything got out in a paddock or well walked and then had some fun sledging on haylage bags behind the quad bike for those who were extra brave! Thankfully all came back in one piece
Today the snow is still very much with us and the team all worked hard to clear a track to, and then around, the school so all the horses could get worked – a very slick rota of four at a time in the school then took place
A massive thank you to them for all their hard work over the last few days – now it's time for the snow to leave us please… it was fun but we've had enough now!
Cheers,
Bill
Posted 12th December