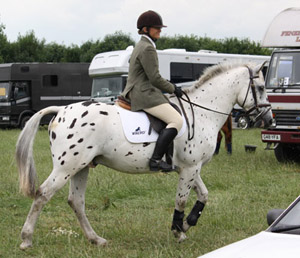 I went to the gallops at silly o'clock this morning with Eleanore and Thea as Harry, Bella and Figgy all needed a canter for their various upcoming target events. I actually do love the early mornings at this time of year once the pain of rising in what feels like the middle of the night has been overcome.
I was back in time for a still relatively early breakfast with Jenny and the kids and a quick game of pirates and, wait for it, squid – not dragons but squid – you have to have seen the most recent Disney Peter Pan movie to appreciate this one, I'm told by Jenny!
Jenny and I then headed out to Aston while Grace and the kids headed off to the Game Fair to support the pony club and enjoy a day out at what is meant to be a great event. The big lorry was being stripped out of all of our kit in readiness for its annual week of TLC with Alistair, our (often life saving) lorry mechanic. So we had the pleasure of going to Aston in Jenny's little green lorry which is some twenty years young and still going strong. Much as I've tried to persuade her to part with it she won't and she's given me much ribbing over the years about my lack of warmth towards it – let me tell you, it's lacking more than a mirror and a coffee holder but she loves it and given we only had Blue to take with us today it was more than big enough – we met Moose at the event.
Moose went well at Aston in what was his first Novice run; he is such a trainable horse and his flat work in particular is coming on in leaps and bounds. I was pleased for Miranda that he went well in the dressage, trying really hard and concentrating more than he has with no spooking at the white boards for a change. He scored a credible 32 to put him second after the dressage. Sadly the show jumping caught him out and he rolled four poles but I'm hoping this will improve as he gets more balanced in his canter and more used to jumping bigger fences and related lines. The cross country, true to form, went well and for what was, I felt, quite a strong first time Novice I was very pleased with how he coped with it all, taking it all in his stride. So all in all no prizes but a good first outing at Novice level.
Jenny also had Blue for his first Intro and he managed to beat her and my expectations by achieving a completion. We were rather throwing him in at the deep end as we've only had him for 6 weeks or so. He's never done a dressage test in his life and only been schooling over coloured and natural fences a few times. Anyway he managed to stay in the dressage arena and wasn't last after the first phase, jump a clear round show jumping and complete the cross country – be it with a couple of run outs early in the course – while spooking and napping, with eyes out on stalks at the fence judges. He could be heard neighing his way around the second half of the course but he did make it across the finish line. He will have come on a lot from this first experience.
The excitement of the day was dear Mally (our flat coat retriever)…. she's always been an opportunist, unlike Dangar who does as he's told and tries hard never to put a foot wrong. Anyway, to cut a long story short, we'd brought the dogs along for an outing but forgotten their leads and so the plan was they'd hang out at the lorry for the day, only coming out when we were about – however I accidently forgot to shut the door from the Luton to the back of the horse box  – and Mally had an escape route.  The outcome of this was that I was minding my own business watching a few of the novices go around and waiting for Jenny when I suddenly saw a flat coat and thought to myself 'what a lovely dog but how naughty' as it was making friends with the fence judges and wandering across the cross country track. I then clocked it was my dog – oh dear – and moved fast (not usual for me) to catch the dog and get her under control… but the only lead I had was my belt which meant I had to keep a tight hold of the old jeans! Thank goodness no harm was down save a red face for me, and I quickly returned my dog to the lorry – me with my tail between my legs and Mally continuing to think how great she was. Another thing I can add to the reasons why the green lorry is not my favoured form of transport – too many escape routes for dogs!
Anyway I've got to get my head around planning what I'm going to say to the local pony club tomorrow as I'm doing a session on eventing. I find these sort of things tough to do as public speaking is not my strong point, but once I get cracking it will be fine. Never a dull moment.
Hipp and Tim also begin their walking programmes as part of their rehab tomorrow which marks the beginning of the road to a full recovery I hope.
Cheers,
Bill
Posted 25th July