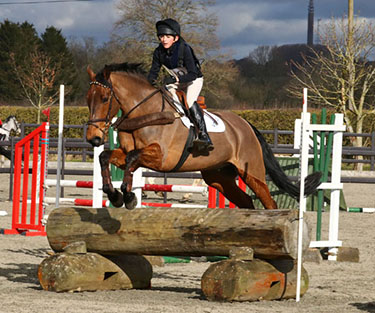 It's been a busy few days as I and the team have been getting the horses out and about for the coming season, and I've also been giving clinics.
I had a good day jumping at Summerhouse on Thursday with Ros and Dotty. Laria, Charlotte and Ryan came along with me for the day so it was a team effort. I was then teaching in Wales on Saturday while Laria, Tori and Jaya went to do the Arena Eventing at Aston to blow away a few cobwebs; they all had a good day out.
On Sunday I was at Aston with Josh on George and Ricky, and Charlotte and Jaya having an outing on their horses. It was rather a surreal moment (especially for Jenny) watching Josh ride Ricky (pictured) around the 80 and 90cm. They went very well together and I think Josh has grand plans to steal his mother's horse this season, although I think she has other ideas as I'm not sure she's ready to give him up just yet!
This week we will all be thinking of Laria as she heads off for her operation to straighten her leg after the hash that was made of it the first time – our heart goes out to her but hopefully it will mean it is put to bed once and for all, and the weeks will fly by.
We will be busy at the gallops, cross country schooling, showjumping at Summerhouse and general fun and games this week – roll on the season for a little peace and quiet.
Cheers,
Bill
Posted 12th February