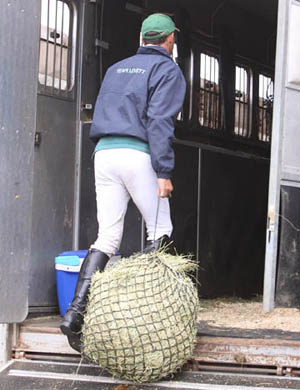 I had a good day at Carlton Park in the BYEH class with Tommy and Alex. It was a bit of a trek to get there, but worth it. Both horses went really well with Tommy gaining his qualification for the BYEH final and Alex sadly just missing out BUT he gained the top combined mark in the dressage and jumping phases. As you know I find these classes rather a mystery, as akin to showing there is such a subjective element depending on who's judging and their views of what makes a good event horse – hence these classes can be quite frustrating as often opinions differ and of course we all feel our own horses are world beaters!
Anyway Alex was lying third and Tommy fourth going in to the final gallop phase of the event. I then had the dilemma of who to ride. Thankfully Tanya, who had originally found and produced Alex, was there and so she kindly rode Alex in the final. Tommy got pulled in first in the gallop and final line up which bumped him up to third and this sadly bumped Alex to fourth overall which was frustrating as only three qualified. We have a couple more qualifiers before the final so hopefully Alex will get his day. Whatever happens I think he has the makings of a top horse – as I've said before he really reminds me of Coco at a similar age – doing everything easily, but I think he will need time to develop and mature and grow in to his frame before he will really come in to his own.
Tommy is now qualified for the BYEH final and the Lycetts 5 Year old final which is great. I took him, as the Prentices kindly said I could, to Bettina for a lesson along with Coco earlier this week which was very interesting. Bettina gave me some very useful tips to try and improve Tommy's connection and engagement over his back and from the hind leg. She wants me to ride him more forwards with a softer, longer neck to try and encourage him to use himself more completely. He's got naturally good paces and elevation but he can be lazy in terms of really using himself so Bettina's tips were helpful.
With Coco we worked on the Gatcombe test and more importantly on his flying changes. He's still not secure in these and so working with Bettina I find very helpful to ensure I'm approaching it right in terms of the exercises I'm using and how I'm applying the aids etc. I do still really enjoy my lessons and only wish I could have them several times a week but sadly that's not practical on many fronts, not least that it would bankrupt me! Every time I have a lesson I'm reminded that riding is a constant process of learning and improvement and that I will never know enough.
Cheers,
Bill
Posted 31st July