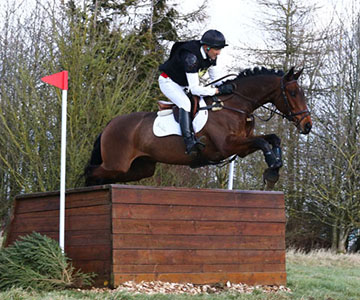 We finally got started with our eventing season at Oasby; it feels like it's been a long winter and today the cold wintery weather continued.
It was good to have Womble (pictured) out again after 18 months out of the sport. He produced some very nice trot work in his test, although we had a slight hiccup when he stood on a board and broke it, then proceeded to shy every time we passed it which wasn't very helpful. He had one pole down in the showjumping and gave me a nice steady run around the cross country. He and I were both pleased to be out together again, and I think both finished the course with a smile on our faces!
We had Bert out today, our first event together as a combination. He did a nice dressage test although was a little inattentive in the canter. He jumped well in the showjumping being very unlucky to have one pole down as he was putting effort in to be careful. Cross country I was interested to assess his gallop stride and from what I have felt so far he certainly feels like a horse that can cover the ground easily.
It was good to have Noor out today with Tonic and Chicken. It's going to be a new world for Noor this season as she will be competing four or five horses so it was good to see that the basics we began to put in place last season are still there. This gives us a good platform to try and achieve our short term goal of a CCI1* in late spring.
Today was also a big day for Dot – her first day of being my official truck dog. I must say she was actually the star of the day as she behaved impeccably, even in her sparkly collar (thanks family!)
All in all a good day and let's hope the weather holds for the next two days as we are back to Oasby on Friday and Saturday for more of the same.
Until next time,
Cheers,
Bill
Posted 8th March