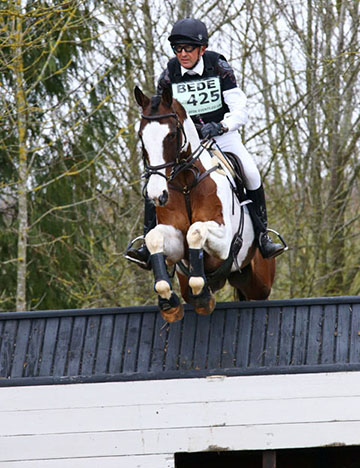 Driving home from Oasby, feeling quite fortunate weather wise as we dodged the rain all day! There's now steady rain and more forecast tonight.
Today was my first day back with Poppy working with us. Poppy used to work for us 3 years ago and has now kindly taken on the role as travelling head girl, another piece in the jigsaw of helping me keep on it and organised.
It was also nice that Jenny could come out and compete Ricky today in the Novice, and have a nice double clear. It's just good to get all the horses out and get that first run under their belts.
I had Alex, Sparkles and Tonto (pictured), Tonto and Sparkles in the intermediate and Alex, like Womble yesterday just having an open novice run. Tonto gave me the best cross country ride I've ever had on him today, being much more relaxed and willing to trust me, and for the first run of the season that is really satisfying. He was also unlucky to have one fence in the showjumping but he did a very nice dressage test and still came 7th in his class.
Sparkles was a bit fresh in the dressage and also in the showjumping so it wasn't his day. He's got some big performances in him but I also think he maybe doesn't like jumping out of the mud. Sparkles has always been a machine across country, and he continued that today making everything feel very easy.
Alex had his first run back after 12 months off and jumped a lovely double clear with a nice dressage score as well. With Alex we will just build into the season slowly, but when you look when Badminton is it does feel like it's approaching quickly.
Up again to Oasby tomorrow with 6 – 2 for me, Quinn and Smurf, 2 for Noor, Digby and Red, and Tori and Jaya having their first run of the season – so another early start. Let's hope the rain stays away!
Cheers,
Bill
Posted 9th March