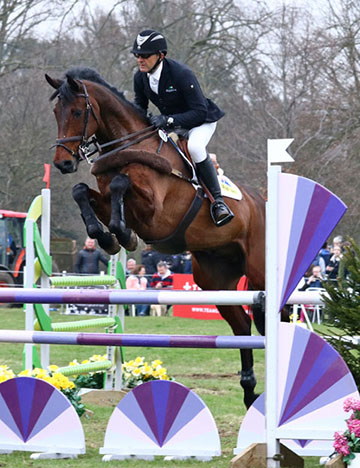 It was a very mixed weekend at Belton for us all! The day started well, Womble jumping a nice showjumping round with one down despite my sat nav error in the route to the last fence – not that Womble would have any idea as it was all my fault. Around a strong cross country track he made it feel like just another day at the office.
Alex also jumped a lovely showjumping round with just one down, and he felt back to his normal self. What happened across country is something I'm still trying to work out as Alex had 3 run outs on the course. This is something he has never done as his record from across the years has got virtually no penalties on. It has not been a good prep run for Badminton.
Now we will have to do some cross country schooling and run him at Withington in the advanced in a couple of weeks time. Our plans will have to be quite fluid now as unless he's really confident there would be no point going to an event like Badminton.
Alfie (pictured) did not run cross country but he came out at lunch time and jumped a beautiful clear round showjumping; he will also get to run at Withington. He is such a pro and was on great form today.
It was certainly good to get out and compete the horses, but what a rollercoaster of a weekend, emotions were up and down like a yo-yo. There are a lot of positives to take away for all of the horses so let's hope we can get everything organised before their main competitions.
Cheers,
Bill
Posted 15th April