Crucial information for a season on the road if you are based in the Cotswolds!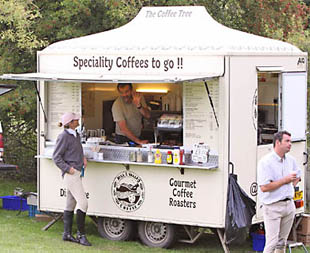 1. Charlie the Coffeeman – without doubt by far and away number 1 in my ranking. In fact Jenny has been known to nap at coming to events with me especially in the early part of the year if Charlie's not going to be there.
I would recommend everything, but if you force me to choose its the latte and flapjacks every time.
2. Marlborough turning off the M4 – Costa Coffee, for the flat white
3. Starbucks at Junction 2 of the M40 for the latte
4. A14 soon after you join it from the M1, Costa Coffee for the latte
5. M&S on the M5 at Junction 9 for the 'treats' to keep me fuelled at events or while I'm truck driving to and from events.