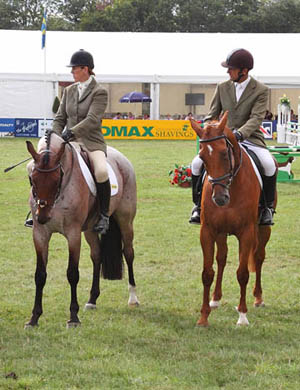 'Big Gatcombe' is an event I look forward to each year and has been an event that has been 'good to me' in the past – this year I think it's going to be a slightly quieter year for me but it will be fun none the less.
Today was all about the dressage as Coco, Harry and Bella were strutting their stuff in the Intermediate Champs, Novice Champs and Advanced respectively. The pressure is/was on with Bella as I need one more qualifying advanced run to be able to run her at Burghley as frustratingly she's got various good runs with 'funnies' – with dressage and show jump marks that leave her technically short of qualifications. The good news, and massive relief for me, is we got a qualifying mark in the dressage today. The trot work was much better and I managed to keep a lid on things in the canter – it's still not great but it's better. I've been playing around with different types of double bridle bit and that seems to be helping. Given the shape of her mouth and where she likes to position her tongue there are definitely types of bit she is more/less happy in. So reasons to keep the faith and training! I now need to ensure I don't mess up and get the necessary qualification in the other two phases.
Coco did a nice test, green in parts but overall he tried hard. He scored well to be lying second to Ruth Edge and Applejack, but there are the bulk of them still to go tomorrow and Sunday morning. With more than 70 in it I'm hoping for a top 10 after dressage given where he's at with the Advanced test movements for now.
Harry was disappointing in the dressage. I didn't manage to sustain the engagement throughout the test, he dropped off the aids and in parts it was very laboured. I have learnt more about him though and what work will best to suit him in advance of the competition as well as on the day itself – I need to look for a positive when things don't go quite according to plan.
I also had Tommy and Alex in the BYEH 5 Year Old qualifier. To cut a long story short I'm very relieved to report that Alex is now qualified alongside Tommy for the Final at Burghley in September. Both horses tried really hard today and Tommy ended up 3rd and Alex 4th but as Tommy was already qualified Alex squeaked in a qualification. As I've said before, these classes continue to be a mystery to me but they give the horses experience without being under pressure which is great and the owners enjoy them so all in all I'm supportive of them. I just cannot find any consistency in terms of what the judges judge on – it seems to be very much personal preference and hence huge variation can occur from show to show – but that is life and that's OK!
I've only walked the Advanced so far in detail, and the course is similar to last year on the whole. They've tried hard with the ground but I think it will still be taxing on the horses – but it's a Championship track and with the jumping efforts and terrain it is how it should be.
I'm back early in the morning with Harry and Bella, and Coco is back on Sunday to show jump. As is typical there is never a dull moment in the Levett household and I'm dashing home to experience camping in my house – only in England.
The kids (with Grace's help) have erected a tent in the living room and are camping out tonight in preparation for a camping trip next weekend while I'm away at Hartpury. One of the stranger things I've heard …. But if it makes them happy no worries!
Cheers,
Bill
Posted 6th August