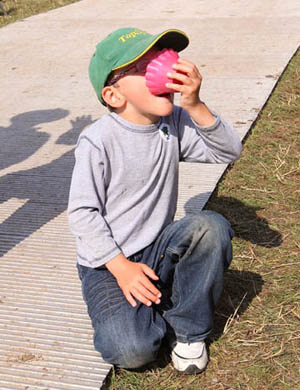 It was an early start this morning as Coco was one of the first to show jump in the Intermediate Championships. I decided to take Joshua and Ursula with me as they fancied an adventure. Jenny had a lot to do at home and I've not seen much of them recently. With only Coco to show jump it was an ideal time to take them with me and have some fun once the work was done.
The track for the Intermediate Champs was strong enough and there is always a lot of atmosphere in the main arena at Gatcombe, with the trade stands/hospitality and people all so close. It's a good experience for a horse to take on and compete in that kind of atmosphere. Coco once again rose to the occasion jumping out of his skin, despite some dodgy riding from me down the last line which I thought walked as a forward six but ended up coming up a touch short, but Coco was adjustable and allowed me to shorten him and jumped the last.
I was really, really pleased with him. It's hard sometimes to remember that he's still only 8 and hence I need to continue to be cautious and pick my events and game plan for him. So with a heavy heart (as we were in the lead) but a clear head I withdrew him before the cross country. As I've said, you can only go to the well so often with fast runs cross country (especially on firm ground) and it's not what he needs right now in terms of his development and his long term future to produce him to the top level.
Once Coco was show jumped it was time for face painting, colouring competitions and ice creams – and all before lunchtime. We were on our way home late morning as I wanted to canter the Hartpury horses (Figgy and Magnus) one last time at the gallops before they leave on Tuesday. Coco will canter again on Tuesday as he doesn't need to head to Hartpury until later in the week.
Before I was allowed to head off to the gallops the kids wanted to have a ride on their ponies and I left them cantering and trotting madly round the school after Jenny on Buzz, who was playing follow my leader with them. Buzz is the perfect horse for this kind of job as he's so gentle and quiet and doesn't seem to get fed up with endless kids games on horseback, and for Jenny and I it beats running along side them – we're both glad that phase appears now to be behind us!
Anyway it's a busy week with lots, as ever, happening at Little Charingworth Stud. Maggie our physio is here tomorrow to check over many of the horses and Tom, one of our vets, is coming to check out a few of the horses and do some routine flu vaccinations so never a dull moment.
Cheers,
Bill
Posted 8th August