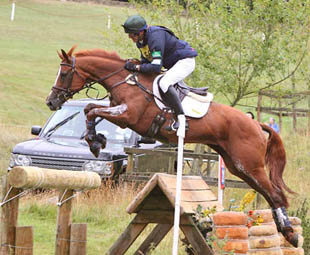 I'm just back from dropping Eleanore, Magnus and Figgy at Hartpury. The event is not that far away from home so I tend to commute back and forth most days, particularly in the early part of the week, so that I can continue to get my horses at home worked as I would like.
It's been a tense couple of days since Gatcombe as, while there was much relief all round that Bella secured her Burghley qualification there, she pulled up after the cross country a bit sore. As usual my back up team rolled in to action with Eleanore and the girls icing her and giving her lots of TLC on Sunday, and then Jenny organised for Maggie our physio and Tom, one of our vets, to come and see her first thing on Monday. To cut a long story short they think it's nothing too sinister. She left a leg at the mushroom fence and the current diagnosis is that she has torn a muscle between her front legs and got some bone bruising down her cannon bone along with a bit of infection in the skin, all of which we are treating and have been since it occurred with ice and antibiotics etc. The good news is that with a quieter week she should be fine and then can resume her Burghley preparation.
We've made her a small paddock on some of the juicy grass (we keep parts of our turnout 'fresh' for just this kind of thing), and Bella will continue to receive lots of TLC this week to help her recovery and to freshen her up. She is already pretty fit and so this kind of set back is manageable within the broader context of her Burghley preparation – Burghley is only three and a half weeks away but all should be fine with a bit of luck and continued attention to detail.
Coco, Magnus and Figgy are all at Hartpury this weekend in the CIC***, CCI** and CCI* respectively. All of them will have a personal 'first' with Magnus and Figgy contesting their first three day events and Coco his first CIC***. So it will be a week of discovery with each horse which I always find really interesting. The last couple of days have involved schooling the horses on the flat and practicing jumping accuracy fences to ensure the horses have got 'their eye' in for Hartpury.
Eleanore has been busy packing the lorry for the trip with enough kit for the three horses over the week. It's always a big job to ensure you've got everything and feels at times like packing everything including the kitchen sink! The good news is that after many years of doing this, we have pretty well defined lists of what to pack and what not to pack, but there is always a bit of last minute running around to buy the last bits and pieces – talc, keepers, tubigrips and carrots are usually top of the list.
Magnus and Figgy trot up tomorrow and they will have a hack in the morning with Eleanore and then I will school them after the trot up. Coco is not yet there as I'm taking him to the gallops tomorrow for a pipe opener. I will then travel down after working some of the other horses in time for the trot up later tomorrow afternoon and then work the horses. The plan is for me then to travel down in the trusty old green lorry with Coco very early on Thursday morning. I think Figgy and Magnus are both doing their dressage on Thursday and Coco will have his trot up on Thursday too. It will be a busy few days with three courses to walk – I'm looking forward to it.
Will keep you posted over the coming days.
Cheers,
Bill
Posted 10th August