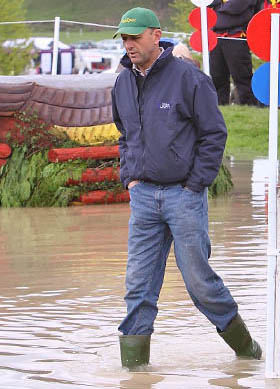 It's been a busy 24 hours at Hartpury; yesterday I cantered Coco and worked horses at home before heading down to trot up Figgy and Magnus. After the trot up, which was thankfully uneventful (I always get anxious at this first hurdle – silly really but it never changes), I worked them both. They were remarkably settled and sensible given it's their first three day and long stay away from home at a grown up event.
Figgy and Magnus both did their dressage in the first half of the morning which meant we were done in time for, as the Brits put it, Elevenses, but it meant a painfully early start for Eleanore and me. I had hot footed it home last night to see the kids and in order to drive Coco down this morning so he had yesterday afternoon in the paddock. Eleanore was up early giving Figgy a lunge and plaiting and polishing both horses.
They both tried really hard in their dressage, and I was very pleased with them. They are a little off the pace but didn't disgrace themselves. I had been concerned that both might get unsettled in the big arena with the flags blowing etc but not a bit of it – if anything Magnus could have had less work, a lesson learnt for next time.
I've walked all of the courses and will fill you in with more detail over the coming days. First impressions are that they are up to height but fair, I think the 3 star is particularly strong but maybe I'm just getting old! Sadly the ground is still very firm; they have clearly been watering and are working on it but we will see how it all unfolds.
Coco is doing his dressage tomorrow morning and then it will be time for more course walking and to ride the other horses in preparation for the action on Saturday.
Cheers,
Bill
Posted 12th August