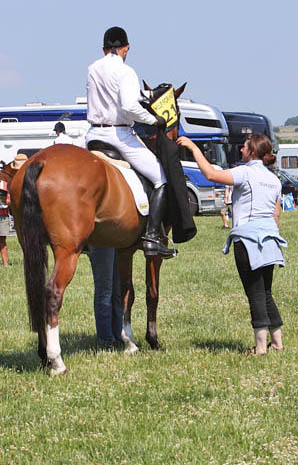 It's been a good day at Hartpury apart from the lack of rain!
Coco did his test in the early part of the morning session and I was really pleased with him. It was his first 3 star test and he's still not secure in all of the movements especially the changes as he's only 'moved' up to this level of  work at home in the last 3 or 4 months. However he is such a competitor and finds much of the work easy so I was hopeful. He surpassed my expectations in terms of how consistent and even he was in the test, scoring a 46.9 which has left him in the top 10 at the end of a full day of horses. He is competing against many seasoned campaigners and he's only 8 so I couldn't be more pleased with him. It's very exciting to ride such a talented horse who is also good in the brain and a real competitor.
The dilemma remains what to do cross country; we desperately need some rain so I will be dancing a lot tonight to try and drum some up! The organisers are doing a lot of work on the ground but the bottom line is we haven't had any decent rainfall for months and months and there is only so much the organisers can do artificially.
Figgy and Magnus had a quieter day today, going for a hack this morning and then I gave them each a jump this afternoon. They both feel good so I'm looking forward to riding them tomorrow.
The cross country tracks are strong enough, well built solid fences with enough to do in terms of questions and accuracy. On the three star track some of the distances will require accurate riding at the right pace to make the distances work. For each horse tomorrow will be a step up and I will find out a lot about them. I feel they are ready but we will know a lot more tomorrow night!
Eleanore has clipped both Magnus and Figgy as we believe every little helps when it comes to reducing how much they sweat in terms of aiding their recovery and how much it takes out of them. Figgy is on just after 9.30am and Magnus at 15.30pm. Coco will also show jump in the afternoon. I just hope I ride well and that the horses are 'up for it'.
Cheers,
Bill
Posted 13th August