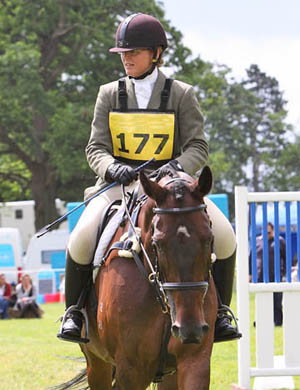 I've just finished two days at Sapey, which have been rather long days as I've been riding horses at either end of the day pre and post the event to ensure everything gets the appropriate work and attention.
Yesterday I had Moose and Fin doing their second Novice and Womble in the BE100. Moose and Fin both went OK, they didn't win any prizes and are both still green at Novice level mostly in the rideability to the show jump fences. However Fin was a little more relaxed and had one down and Moose jumped beautifully outside but when he went in the ring and the adrenalin kicked in he unfortunately had 4 down which was a shame as he'd done a good dressage – although the ground was firm enough and so I wouldn't have wanted to 'have a go around the Novice' cross country anyway really.
Moose will, I think, come as he does throw a nice shape when he's relaxed – so much so I find him hard to sit to at times! BUT he needs to learn his craft (post being a racehorse) and with this relax and gain in confidence. He will be a different horse next year I think after a winter of show jumping and improving his canter. Both horses went well enough in the dressage for where they are at and gave me a nice ride around the cross country, green in parts but nice enough.
The courses were relatively unchanged from the Spring event which was a shame but very understandable. Sapey is a nice event with some interesting cross country questions for young horses, for example in to and out of the quarry area and then in to and out of a wooded area, along with a water jump very near the lorries which is always a good discipline test for them.
Womble was the star of yesterday as yet again he had a win. He did a nice test and then jumped a super double clear. I was particularly pleased with how he jumped in the ring in the show jumping – he really pinged and seems to be a horse that really 'comes up for it' in the ring which is exciting. I was also pleased that he didn't try it on and nap cross country especially going past the lorry park and through the water – very pleasing! A win's a win and I'm very happy with him, he has one more BE100 outing at Highclere and then will finish the season with a couple of Novice runs.
Today I've been chief lorry driver and coach as Jenny, Eleanore and Darian were competing – the kids also came along with Grace and Jane (Grace's mum) aka the Bailey fan club! It was a good day. Suffice to say all rode well in parts (!) but no one won any rosettes – but everyone came home safe and smiling and lots to take on for another day. The highlights of the day were Bailey and Keedy around the cross country which both Darian and Eleanore rode very well, and Blue achieving his first clear cross country and being less green and more 'up for it', with Jenny not having to push and shove quite as much to get him round. Finally Buzz and Mac were both dressage divas with winning marks in their respective sections. I won't embarrass them all with the less good bits!
I'm off to the gallops tomorrow with Bella and working horses at home before venturing to a pony club rally and sleep over on Friday! I have a rare weekend off from eventing this weekend apart from helping Jenny at Solihull so I'm looking forward to some family time.
Cheers,
Bill
Posted 18th August