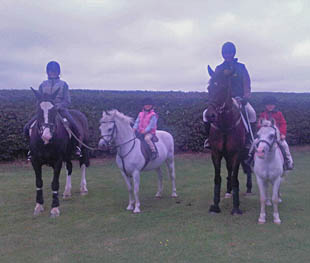 I took Bella for a canter yesterday at the gallops, she felt good on the gallops and afterwards warming down BUT this morning she trotted up lame. Of course we got straight on it and Tom, one of our vets, came over this morning to investigate further and scan etc. and to cut a long story short she has an injury that will keep her away from Burghley.
It goes without saying that I'm gutted for her owners and for my support team as everyone has worked so hard to try and get her to a four star as we've always felt she had a four star performance in her, in at least the jumping phases! Anyway it appears not to be for now. As she is also an older horse (as are Tim and Hipp) the prognosis and choices for when and how she comes back are never as straight forward. For now she needs rest and some rehabilitation  and beyond that only time will tell.
Feeling rather depressed about it all…..
Sadly the friends we were going to stay with this weekend have been struck down with by a sickness bug so we have been grounded at home for tonight, so no pony club rally and sleep over. However on a brighter note, Jenny and I took the kids for a hack today for the first time with all of us mounted. It was hysterical, with Josh wanting to go slowly and Ursula wanting to tear around – typical. Anyway we all had fun, dodged the rain clouds and came home safe and sound.
Horses can be such a rewarding but also such a devastating career. Today sadly reminds me of this yet again.
Cheers,
Bill
Posted 20th August