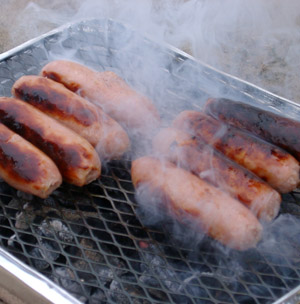 It's been a good few days after a depressing last month. I've been feeling rather fed up for the last few days as the news about Bella on Friday was the final straw in terms of feeling that lady luck has well and truly deserted me. I feel like we try to leave no stone unturned and I try to be really sensible about the ground I run on and the speed I go but it still doesn't seem to pay off. All riders have these kind of things happen but at times it's hard not to get paranoid.
Anyway, on a brighter note, the kids kept me on my toes and entertained on Saturday as for a pleasant change I wasn't riding but I was team 'manager' and chief trainer. Jenny was competing spotty and stripey better known as Blue and Mac in the BE90 classes. In short it was a good day as both horses jumped double clear and Mac won. Jenny was thrilled and I was really pleased for her as she has two lovely horses to have fun on and both are real jumpers. Blue will also have his day as he has nice paces, he's just still green on the flat. The unusual element was the rain and mud…. we've not had mud for so long it's been hard to remember what we do when we have it! No seriously, it's nice to have some rain and warm weather, everything finally looks green again and the grass is growing which is good news for all.
There was much leg pulling at Solihull over the cross country commentary about my BBQ'ing skills as on Sunday we had a day off and some friends came over for the day for a BBQ. Suffice to say as I'm Australian expectations of my skills with the BBQ are high and I didn't want to disappoint, but I'll tell you before Jenny dumps me in it that I was busy having a practice late on Saturday night in the pouring rain – I was concerned that my BBQ skills were not up to scratch or at least a little rusty! A dozen sausages later I'd figured out my technique for charcoaling vs. burning to a crisp.
Much to Jenny's frustration I delivered in my usual last minute style and pulled the rabbit out of the hat with glorious sunshine all day long and no major howlers with the BBQ. It was a very relaxed day chilling with friends. It tipped it down all night on Saturday and started again just as we finished clearing up on Sunday night but not a drop fell in between – I call that a result!
Today, Monday, was another story. Jenny and I were up early sorting horses and the yard before we took the kids on a day out to Legoland. We had been warned that this would be a bit of a zoo and that the crowds could be really bad. However one of the few benefits of the torrential rain that poured most of the day was that the crowds were non existent – most sane people don't go on rides with little people if its tipping it down! That wasn't going to stop us: we'd paid our money and were going to make full use of Viking World and various other rides. Needless to say Ursula and I are the 'die hards' in the Levett family, although Josh and Jenny kept up most of the day.
It was great to have a day out as a family away from the yard, lots of fun. However two exhausted children and four drowned rats aka Team Levett made it back in time for some early evening horse riding before some very important packing for Basil and Ursula who are going to their first 'overnight stay pony camp' for the next three days, starting tomorrow – don't they grow up fast.
On the horse front, I'm taking the working pupils to a local venue for some clear round jumping tomorrow which should be fun for them along with riding my horses. Then later in the week Coco is at Hunters for some pre Blenheim match practice, doing the Blenheim test in a day laid on for us Eventers which I always enjoy. Then I'm at Highclere Saturday, Sunday and Monday which I'm looking forward to, with a combination of the young and more experienced horses doing the BE100, Intermediate and Advanced classes.
Cheers,
Bill
Posted 23rd August