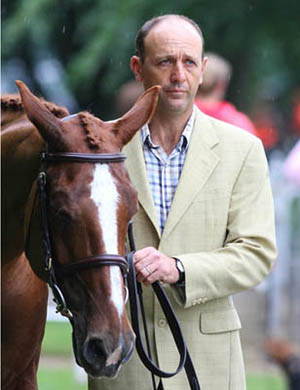 It's been a typical action packed week at Little Charingworth. The good news is all the horses seem to be going well and continue to improve in their training. I also took the girls show jumping this week at Allenshill and we all had a good time, lots of things for them to work on but good fun was had by all.
Ursula has also survived three days of pony camp and won her first '1st' rosette for tack and turnout with Basil and another first  – she cleaned her tack solo as neither the girls, Mummy or Grace were there to do it for her and she wanted to win! The best news of all is that Grace has gotten engaged. We are all of course thrilled for her and a summer wedding is on the cards for next summer – really great.
On the less good front the Kemps came and picked up Bella yesterday. She's gone home for her rehabilitation and most likely won't be coming back to pursue a competitive future again but instead may become a brood mare. I'm sad to see her go as I've had some great rides on her over the years across country and, despite her driving me mad on the flat, I have a huge soft spot for her. I've trained her now on and off for many years and her going leaves a big hole in the yard. She was also one of Eleanore's favourites so I'm sad for her as well.
On a more positive note I have a good three days at Highclere to look forward to and with all the rain we've had I'm looking forward to some good ground. I've got Tommy, Alex and Womble in the BE100 tomorrow and then Figgy and Harry doing the Intermediate on Sunday and Magnus doing his first Advanced on Monday alongside Coco who will get some match practice in in the dressage and show jumping ahead of Blenheim but won't run cross country.
I took Coco to dressage at Hunters today as they were running classes with the Blenheim and Burghley tests. Coco tried hard in the Blenheim test, scoring pretty well. I'm looking forward to riding him at Blenheim.
Ill report back over the weekend on the goings on at Highclere.
Cheers,
Bill
Posted 27th August