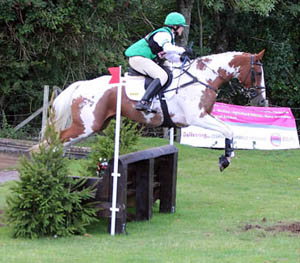 Just finished at Highclere and it's been a good day for Team Levett but not for me! Mary jumped a double clear on Keedy which was great for her and Jenny came third on Mac with a double clear and good dressage in their first BE100 outing together. Blue also went like a top for his first BE100 outing, post a slightly wild dressage he jumped like a top and really seemed to enjoy the cross country – he I think is a real competitor and has a real fun personality.
I had Alex, Tommy and Womble and all of them went well but no prizes – and Jenny beat Tommy and me! With young horses sometimes you have days like today; all the horses went well, didn't do anything majorily wrong but several little green moments held us back.
Alex went like a top in the dressage leading his section which was pleasing, he's improving all the time. He then had a frustrating two down, not sure why, he just came a little against me. I'm not worried as he's a jumper and he'll have his day – he then went well cross country although I took him quietly.
Womble didn't make it three out of three in terms of wins today but he still went well at his last BE100 outing. He's ready to step up to Novice which he will do next time out – he did a polite test, rolled a pole show jumping and went well cross country.
Tommy was a cheeky chap. He did a lovely test in parts and then show jumped well, rolling one pole (I couldn't jump a clear round to save myself today!) He was then cheeky cross country, ducking out at a little narrow chair fence on the exit from the water – one of those young horse things, not a big concern but unfortunate. He's so athletic that when he does duck out he is super quick to do so. Never mind.
The ground at Highclere is fantastic, the old turf coupled with spiking and the recent down pours has left excellent ground, the best I've seen for a very long time. The courses as ever are up to height but not overly complex for the BE100s and ride really well. I've not yet walked the intermediate or the advanced but I'm expecting those to also be great tracks as they usually are.
The show jumping is surrounded by trade stands which is a good experience for a young horse, so all in all a very good event, which is evidenced by the extra day they are running this year.
Anyway off to a wedding reception hog roast tonight and then back to Highclere tomorrow afternoon with Figgy and Harry for the Intermediate.
Cheers,
Bill
Posted 28th August