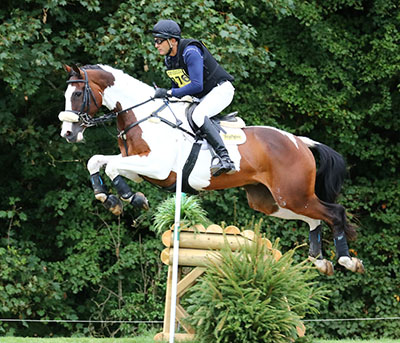 The season is almost over and it seems strange that it is still lovely weather, although the nights are closing in.
I escaped down to Ligniere with Tonto for some really warm sunshine, and a lovely competition. It was my first time, but it was worth the trip as the courses and the ground worked really well. The French were very welcoming and a lovely time was had by all of us.
Tonto went super in all three phases to finish 5th overall, staying on his dressage score – a great way to finish his 2018 season. He made the time across country with plenty to spare, and concentrated well in the show jumping to leave all the poles up.
The next event of the season was as a coach and dad with Josh at Bicton. Ryan came along to keep us all organised. Josh had George, Aussie and Ricky, with Ricky doing the BE100 3DE with steeplechase and roads and tracks, and the other two doing the BE100 sections.
Again we were blessed with super weather and Josh rode the best he has to date with an 8th on Ricky and a 6th on Aussie, both having a pole in the show jumping. George was a star and just had one refusal across country, but is really going well now at BE100.
How Helen West and her team were able to run so many different classes beggars belief, but they seemed to pull it off. It was probably as good a ground as we have had all year and a well run, happy event. Bicton is definitely firmly on the map and well worth the trip.
I was a little nervous watching Josh head off with Ricky on the steeplechase – Ricky being 16.3, but Josh gave him a lovely ride and Ricky was an old pro. Jenny, who has been riding him for the last few years, said Ricky would be fine and look after Josh but I was still worried as the steeplechase was run at one star speed not BE100.
On the Friday of Bicton Noor and Jaya trekked down for Novice and Intermediate runs and it was nice to see them head home with smiles on their faces. Jaya and Noor have come on loads this year and all looks exciting for the year ahead for them, as they step up to new challenges.
One more day of the season left now with a couple of babies out at Aston then all over for another year,
Cheers,
Bill
Posted 22nd October