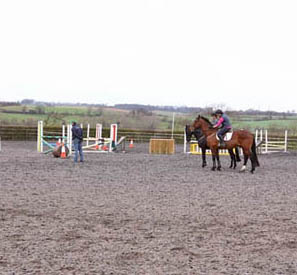 It's been a productive couple of days with final preparations nearing completion for Blenheim. Coco had his final 'once over' from Maggie our physio at home, who will then hand over to Anna (Johnson) who supports us at events. She was really pleased with him which was good news. Nick also shod Coco and made sure all was in order with his shoes and the plans to put aluminium shoes on while at Blenheim. As I think I've said before, I tend to put aluminium shoes on the horses for cross country at the big events to reduce the wear and tear on them as the shoes are considerably lighter than the usual steel shoes they wear.
Coco had a final canter today and all went well, he seems bright in himself and we will head to Blenheim on Thursday first thing. Coco's dressage is not until Friday afternoon, before the trot up which takes place early evening on Friday followed by show jumping on Saturday and cross country on Sunday. I'm hoping that the recent rain over the last 36 hours will help to keep the ground spot on as it was at Highclere. I'm confident that Coco is prepared and ready for the event but you always need a bit of luck and it remains to be seen if all goes well in the first two phases as Coco is, as I keep (boring I know!) saying, a horse we hope has a big future. We will see how fast I go across country. He's fit enough to have a crack but we will see.
I'm not a huge fan of events that run the cross country in reverse order. I completely understand why organisers do it as it creates more atmosphere and better entertainment for the crowds, but it can lead to increased tension and pressure to go flat to the boards, which is not necessarily productive in creating the best for the horses – as I say I understand the why but that doesn't make me a fan. However it is my responsibility to always ride with my head and make a plan that is suitable to the horse and conditions on the day.
On a different topic I've been doing a fair amount of teaching over the last couple of weeks and I'm really enjoying it. I enjoy helping others to progress and find helping people with a desire and enthusiasm to learn (at any level) a rewarding thing to do – lets hope the predicted autumnal weather doesn't come to soon and that people still want to get out and have lessons for a few months yet.
Finally I wanted to say how thrilled I am for Clayton to come 3rd at Burghley on a horse he's only recently formed a partnership with. I was also really pleased to see Lenamore win; he (and Caroline Powell) really deserved it  – they have been a great partnership over many years and it was definitely 'their time'. I was also watching with interest Mark Todd and Major Milestone although probably for different reasons than many others. Miles (the horse) was one I started out many years ago when I was riding for Philip Adkins and I always rated the horse but felt he would take many, many years to produce as he was very sensitive and highly strung. Sadly Philip wanted him moved on as he was not a horse for him and we did not have the funds to buy him. It's interesting to see how he's progressed and I was really pleased for the horse (and of course Toddy) that he went so well at Burghley – another relatively new partnership.
Cheers,
Bill
Posted 8th September