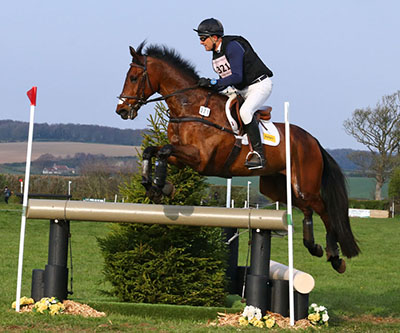 On the long journey home from Burnham Market. You can't say it's been a lovely sunny, warm weekend. There was sunshine, hail, rain and wind. Typical Norfolk days for this time of year.
Like always Burnham Market's classes are packed full of good horses and riders, and this year was no exception. Over the few days we had 10 horses at the event. I had 4, Josh had 3, Georgie, Noor and Jaya all had 1 each.
The ground was good, albeit by the end of the weekend verging towards firm and I thought this year that Alec Lochore had made the tracks a little more horse friendly.
It was very exciting to see Josh do his first Novice on Ricky as it is a big step up, but they both handled it very well. Alfie and Sparkles did nice dressage tests in the CCI4*S and Alfie (pictured) again was an old pro, finishing 5th in a large class. Unfortunately on Saturday night Sparkles managed to whack a leg in the stables so we played cautious and didn't run him in the showjumping or cross country as he will need a few days for that to settle down.
Tonto again proved that he has matured from last year with a lovely double clear around the CCI3*S, and although Quinn is young as well he also came home double clear. I was very proud of both of them.
All the students, Noor, Jaya and Georgie had fab rides around the cross country which a good achievement and certainly there is lots for them to work on in the other 2 phases. It was nice for me to get 3 double clears on horses today, let's hope it can last and we can have many more over the next few shows!
Until next time, 
Cheers
Bill
Posted 14th April