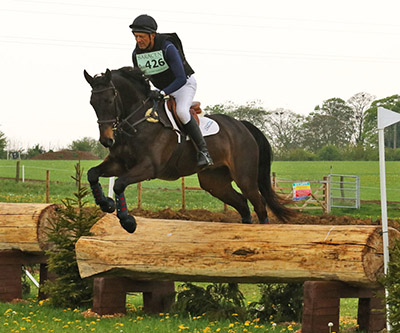 A long day has come to an end, with eight horses going to Whitfield. The team started very early and at 5am the two lorries left the yard.
The xc course was fairly straight forward, other than some table cloths on a decent table which, when the breeze got up moved, creating havoc. Josh had a good day with three to ride (having stolen the pink pony from his mother for the day!) and has two double clears with Tommy and Smarty and just one rail on Aussie.
Noor had her lovely new horse Cash In Hand out, getting her partnership with him established. He seems to have a lovely temperament. Mike Doo, our South African client, had his first placing which was a great result and so pleasing for him. Hopefully it will be the first of many.
As for me I had a new ride Stan, and he gave me a very nice time jumping a double clear. I also had Mario and Bambi (pictured) out who also jumped double clears, continuing to gain experience without being under pressure and going in the right direction.
We were all expecting rain today but other than a couple of showers it stayed away. I think all the riders are hoping rain will come soon as the ground is turning fast.
Until next time, cheers
Bill
Posted 24th April