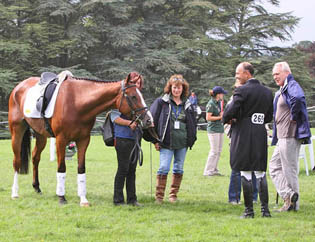 Coco did his dressage this afternoon. I was really pleased with his test, I felt it was the best he's done. He felt much more confident and established in many of the movements. He may not be in the lead but he's still in the top half a dozen and only one rail away from the leader. It's a strong field so I'm very proud that Coco has put up such a good performance – after all he is still only 8 and competing against 8 and 9 year olds.
The cross country course feels very fair on first walk and the ground is good. I'm hoping we don't get too much rain (much is predicted) in the next 24 hours.
Coco is show jumping tomorrow but not until the early evening so it will be an odd day as I've not got a horse in the 'big' class. The CIC*** show jumping runs after the CCI*** cross country. It should be a good days viewing for spectators, let's hope the torrential rain holds off for them as well.
Cheers,
Bill
Posted 10th September