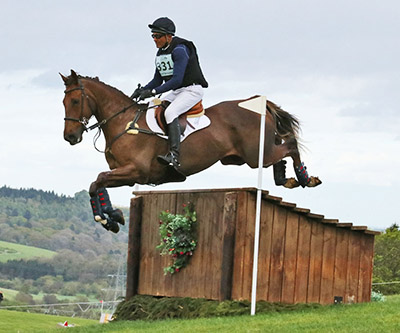 It seems quite a while ago now that we were at Withington as we do this blog, now, on our way to settle Sparkles in at Badminton. For me it was a busy weekend of competing and giving a clinic and we also had Josh, Noor and Georgie all out competing as well.
Suffice to say Sunday was much better weather than Saturday as Saturday was extremely windy and cold. For me on Saturday I had Tonto, Quinn and Sparkles. As Withington is normally known for having all of its classes up to height, it's pleasing to see Tonto and Quinn make the intermediate track look quite straight forward.
Because Sparkles missed his Burnham Market run, we decided to run all 3 phases at Withington as a prep for Badminton. It was only a few days before the trot up so it was a little risky but experience has taught me over the years I'd you are going to an event like Badminton, don't go unless you feel you have had the right preparation. It was a great to feel Sparkles (pictured) very much in the groove and making light of the Advanced cross country.
Once Sunday morning's trot up was done it was a relief to know that it was full steam ahead to Badminton. Georgie, Josh and Noor all had very solid rounds and, with the rain that the area had had a few days before, the ground was probably the best I have felt at Withington for a very long time.
We are now only about 20 minutes away from Badminton so a big thanks to all of the team at home for helping us get here. A special thanks must go to Jenny for supporting me for 17 years and juggling horses, family and her own work which is no mean feat.
I'm really hoping I can give Sparkles a good ride this week and do him justice as I think he is a horse that naturally has ability for this type of event. It won't be long now until we find out.
Cheers,
Bill
Posted 30th April