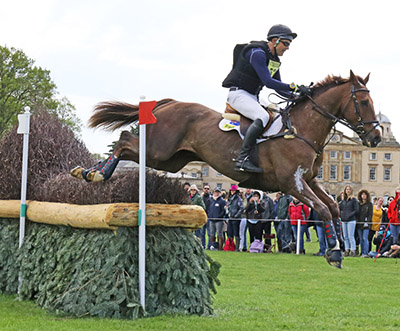 What a great few days for Sparkles at Badminton, his first 5* and I couldn't be more pleased with him – I come away more convinced than ever that one day he has the potential to do very well at one of these events. We just need a little more experience and lady luck on our side on the day.
It's a fine line between finishing 7th and 15th but the 2 rails he had in the showjumping will not always be the case as he's a good jumper. He was super around the cross country yesterday with bags of engine and gallop and just loves to jump and run. He also has a tidy dressage test in him. So my job is to try and put it all together next time out. So after the week at Badminton we are coming home with a sound horse who has a very bright future at the top level, which is all very exciting.
The competition itself was good from start to finish. The cross country phase was influential which was very good, and again with all the scores very close together, so the show jump rails were very expensive.
It is a big achievement for the team and for Jenny and me to have a horse from a 5 year old and take it to Badminton. The big treat for me after the show jumping was that Jenny and Urssie surprised me by coming back from their vaulting trip in Holland early, to watch Sparkles jump.
Sparkles will come home and have a lovely bit of R&R as he has earned a decent bit of rest, then we will make a plan for the autumn. A huge thank you to all the team at home, and at Badminton, for helping us get everything in place to be able to go. Although for a rider it is a bit of an adrenaline rollercoaster to put yourself up against the toughest competition around some of the toughest tracks it is also a real thrill. Let's hope there are many more days like this for Sparkles as I have a feeling that one of these days he will win one of them.
Cheers,
Bill
Posted 5th May