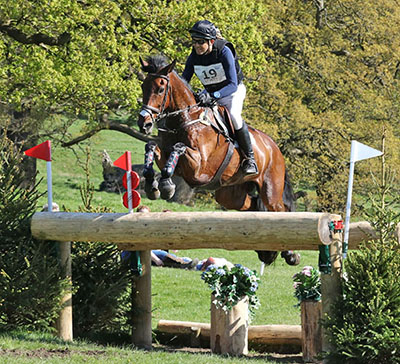 This weekend has been at the beautiful Chatsworth Estate in Derbyshire. It is one of the most stunning venues that we compete at all year.
Things didn't start according to plan as within 10 minutes poor Ryan had been accidentally kicked in the mouth. This meant he had to spend the next few hours having his lip stitched and his front tooth repositioned. It was a big shock to all of us but I think Ryan will be ok.
We only had 3 horses there from the yard, 2 for Noor doing the CCI2*S and Alfie doing the first leg of the Masters series. Noor continues to improve all the time and it was nice to see her get 2 qualifying marks on these horses. Particularly pleasing is Tonic as when Tonic and Noor arrived they were not the most consistent in the cross country but he is now proving to be reliable.
Alfie's weekend started off well, being 3rd after dressage and then he jumped his socks off in the show jumping for just one down. The weather at Chatsworth over the few days was lots of heavy showers but the ground was drying out fast and Sunday turned out to be a lovely day. Alfie really put his best foot forward across country and until the half way point on the course was still up on the time, but with the ground quite holding and the hills at Chatsworth, was not quite fast enough. He gave me everything and wasn't far off the pace so was still in the hunt or so I thought…..
The disappointing thing was that I got 15 penalties for not going inside a flag but, unlike Belton where I got 15 penalties and shouldn't have, this was a fair 15 penalties. It cost Alfie and me 6th place in the Masters which was hugely disappointing, but it does bode well for the rest of the series as all the other legs are on far less testing terrain.
I'm so thankful for the Prentice family who continue to allow me to let Alfie show off his talent in these classes. Who knows, this season I might get on the podium more than once.
Cheers,
Bill
Posted 13th May