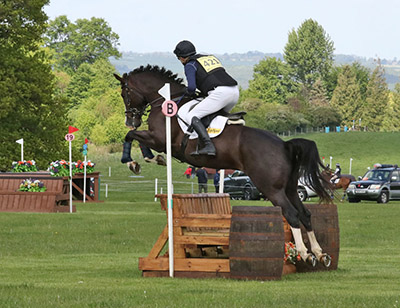 The weekend is over and Rockingham International is over for another year. I have fond memories of the event as it is where I won my lovely hand made watch.
Mario (pictured) and Bambi were out again and although producing young horses is a long project, they continue to improve. Bambi had a stop across country going into the woods over a trakhener – the fence caused a lot of issues all day as it was from light to dark and had light sand on take off and landing. For a young one it was a good learning curve.
I'm really thankful they had the rain as it would have been on the firm side if they hadn't. Tonto was great in the cross country and dressage, other than spooking at the flowers in the dressage; show jumping he just wasn't paying attention. He's jumped a lot of super rounds this year so I am going to put this one to one side as I am sure his next ones will be better.
Noor had Tonic and Nankin doing the 2*, with Nankin finishing really highly in the dressage. It was unfortunate for the pair that they had a misunderstanding and parted company on the cross country; both are well though and live to fight another day.
It was great to see Dotty out enjoying herself and pulling up so well after her run. Dotty loves it when she is out going cross country. The track was difficult in some places with the undulations, with some fences requiring positive riding. Overall it caused enough problems.
Stan jumped a lovely double clear, he and I seem to have hit it off very quickly, long may that last. Digby was the star of the weekend coming fourth in his class and giving me a super ride, feeling a lot more confident to a fence.
No competitions for me this coming weekend as I have a clinic.
Until next time, cheers,
Bill
Posted 20th May