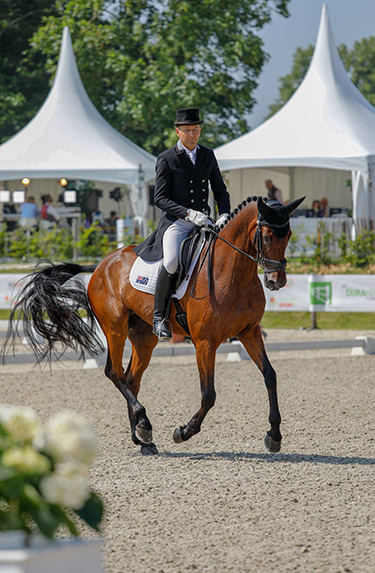 So I write this on a beautiful sunny morning as we are driving back from show jumping some of the younger horses at Lyneham Heath on their great all weather surface. We've had a productive morning with all of them going well.
Tomorrow I'm off cross country schooling with some of the older horses at Oxstalls as the ground is perfect post the recent wet weather and it's a good chance to get all of the horses out schooling before their next runs at Upton House, given the cancellation of Catton Park last week.
Since my last blog the girls have returned home from their vaulting adventure – I met Julie, Urssie and Jenny in Munich on a hot Monday morning and helped drive home – what a legend I am as I heroically took on the grave yard shift from midnight for a few hours!
Urssie had a productive trip with some great coaching over the three weeks and experienced first hand the ups and downs of a life with horses as Cassie was spun at the first trot up, which remains a mystery to all that were there or watched it online – but that's horses. So Cassie had a week's schooling with Jenny in Slovakia under saddle instead and Urssie was still thankfully able to vault with the team.
The vaulting team have been selected for the Senior European Championships at the end of July which will be something new for us all to experience and I'm really pleased for the team at EVS and their coaches, it really is a great team with good focus and vibe about it all.
For me my next outing was Arville with Alfie and, after Ryan sadly misplaced his passport somewhere between the mud of Bolesworth and home, Lydia stepped in at the last minute to come with me.
We had a good overnight trip out and arrived to very hot weather but thankfully after a period of rain so the ground was perfect. It's a beautiful venue set on a hill with the course below so great for viewing and the team are very welcoming, keeping the event running smoothly.
Alfie was a superstar and performed fantastically all weekend. He was equal second after dressage and then jumped a super clear (in spite of me in one distance adding) with just a time fault, which was my fault, which dropped us to fourth as the scores were all so tight.
The cross country caused a lot of problems but I was very proud of Alfie. He jumped a great clear but I picked us up 15 penalties as we jumped the wrong side of a flag at the corner coming out of the first water – completely my fault. Alfie turned more easily than I expected and we were slightly off our line – only by a few inches but that is all it takes – a very costly mistake which I am so sad about as the flag cost us a fourth place at this event, and we would have been second overall in the series. Instead we ended up 8th and have moved to fifth overall in the series. It certainly kept me awake all night, going over and over my mistake on the long drive home.
Thankfully Alfie has pulled up well from the run and we will regroup and head to Jardy. I am very proud of Alfie as he has been going brilliantly this spring. These classes are great for showcasing our sport and attract some of the best rider/horse combinations in the world, and I'm proud and pleased that Alfie and I can be in the mix with them – onwards to Jardy and I just hope I can do a better job and not let Alfie down.
Cheers,
Bill
Posted 27th June – photo © Emillie Joppartt Photography