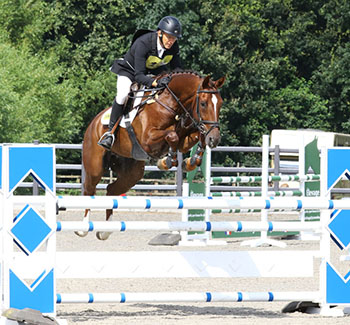 After a few lovely days with the family in Cornwall, it was time to go to Aston with Stan and Bart doing the intermediate. Noor had a couple of intermediates as well. The ground was good and the rain beforehand helped a lot. Nigel (Taylor) seems to have made all the tracks at Aston a bit different and stronger, which is nice for us all that go there quite regularly.
Bart and Stan are works in progress, they were doing a first intermediate with me. They both feel that with time they will be good for this level and hopefully beyond. It won't take long as they are going out to Somerford next week which will be a good opportunity to consolidate the lessons learnt here.
Noor had a great ride on Nankin and in him she seems to have found a horse that will give her experience at intermediate.
Jaya had an early start this morning and a nice run around the Open Novice with Dotty who was really happy to be out again after a short break. She loves her Eventing and almost smiles when she goes cross country.
Meanwhile I was at Hartpury early this morning for Tonto's dressage in the CCI4S. He warmed up well but was a bit spooky in the ring with the flags, which was disappointing.
Onwards to the show jumping tomorrow, which has moved indoors due to the weather, and then to the cross country which feels beefed up from last year.
Until next time,
Cheers
Bill
Posted 9th August