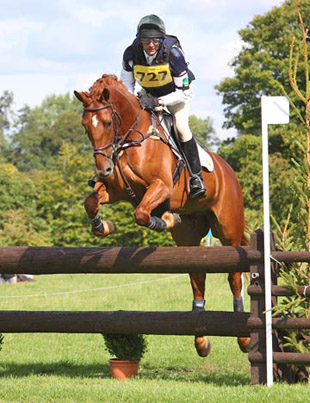 It's been a very 'average' weekend for Team Levett. Nothing has gone wrong and on balance I'm pleased with all the horses but I didn't win any prizes – that's how it goes, particularly when horses are young and/or learning their craft and making a step up to a new 'level'.
Yesterday (at Gatcombe) I had Fin and Moose in the Novice. Both horses did better dressage tests and are now gaining in confidence with the movements required at novice level which is pleasing. The show jumping was mixed; Fin tried really hard and the focus on this phase over the last few weeks has led to him gaining in confidence and improved rideability to the fence. He had one down which was really my fault as I moved him to a vertical rather than wait for one which would have suited him better. Moose sadly had a round to forget with 5 down; he went incredibly green in the ring and put down in front of a few fences rather crashing thru them. I'm not sure if it is a confidence issue or a technique issue or a bit of both – he will spend the winter show jumping and see if we can crack it. He's not based with me full time and he's still quite green so we will see what transpires in the coming months.
Moose and Fin both then went well cross country, Fin got 20 penalties but he wouldn't realise he had! There was a skinny that was quite hard to get on to and I didn't manage it with Fin – as a consequence I had to come around again, hence incurring 20 penalties. I was pleased with how both horses went cross country and the ground was still as good as it had been on Friday.
Today I was back with Figgy for the show jumping and cross country for the 2star. She wasn't on until the afternoon but frustratingly we all had to be there for the trot up in the morning – at least they moved it to 11am. It was in number order so I had to be there. The trot ups for CIC classes are a real pain for all involved, competitors, organisers and vets but rules are rules. It's such a pain when an event is spread over several days and people are not on site as inevitably it ends up being at a time that doesn't suit for at least some. No easy solution, just part of competing in a CIC nowadays.
Figgy tried really hard in the show jumping, jumping a lovely clear but sadly incurring 3 time penalties. I didn't think I hung around but clearly I didn't go fast enough for what must have been a fairly tight time. I was early to go so it was one of those things – never mind.
She then jumped a lovely steady clear cross country so she got her qualification. I was really pleased with her. I've been really impressed with how she's mentally coped with the step up to intermediate. It's a good example of taking the time to ensure a horse is really confident at a level (novice in this case) before moving it up to the next level. I took one long route to make sure of the qualification; there was a log on top of a steep bank with about 5 strides to a corner, I decided to do a circle to not risk a silly run out. She jumped the bounce three strides to a wall out of the woods well and a drop off in to space to a skinny well. So I was thrilled with her especially as I didn't get the best shot coming out of the water and she was confident enough to sort things out .
Figgy will now have a holiday for a few weeks to mentally recharge before some winter dressage schooling and show jumping, ready to crack on in the spring.
Jenny was at Monmouth on Saturday, an event I've not yet managed to get to as it usually clashes with Gatcombe which is local to us. She has always said its a good event with a testing show jump track, and a cross country course with lots of variety and again fairly testing. She also had a good educational weekend but no prizes – being caught out on both horses by a fairly tricky corner half way around the course but very near the start of the cross country – both horses getting distracted by thinking they'd finished as they went back past the start just before the corner. They jumped it well second time around. Sounds like a good educational event for horse and rider!
The week ahead is a special one for me as my brother in law and nephew are over from Australia to see the UK and take in some football matches. I can't wait to see them, should be fun. Also this week we are finally starting work on updating the surface of our school. There is nothing wrong with it but we want to give it an overhaul to ensure it continues to last as well as it has to date. Steve Keen is coming to sort some of the drainage and top up the surface which will be great.
The usual regular activities of riding, teaching, gallops and going show jumping will also keep me out of trouble before I head to Moreton Morrell with the Novices on Friday.
Cheers,
Bill
Posted 19th September