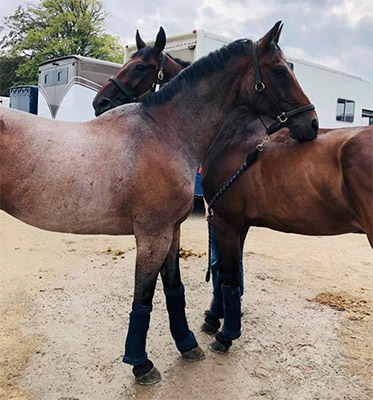 Trucking home in a bit of a hurry to catch the 9 o'clock Dublin ferry having just spent the last few days in Millstreet with four horses there; one for me, one for Josh and two for Noor.
The week started with us arriving in very heavy rain. For Alfie it wasn't the ideal leg of ERM as he prefers the top of the ground and doesn't enjoy wet/holding ground, and ideally he prefers a flatter track where the combinations are really technical and built on a forward distance as he has a big stride and lots of experience.
All the courses were technical enough but still very encouraging for the horses. Mike ES and his team had done a great job given all the weather had thrown at them.
It was great to see Noor have two really good cross country and showjumping rounds, and it seems that her two nice young horses are growing in confidence. Josh was doing another two star on Tommy and produced a really solid double clear. He's such a good horse for Josh, and Josh has been giving him a good ride – we are very grateful to the Prentices for allowing Josh to ride him.
Alfie was in the ERM. In the last eight internationals he's been in he has finished in the twenty's in his dressage marks so it was a little frustrating when he ended up on a 30.9. He just didn't enjoy the going in the arena and he also, for some reason, much prefers the patterns in the 4SA test. There were still some super bits in the test – the extensions and the changes for example, but for some reason the judges didn't really reward the very good bits in the test! Never mind, that's competition.
In true Alfie fashion he pulled himself back up the leaderboard enough to gain series points and to be tied equal first going in to the final leg. He really is a special horse, he always trys his best and gives his all and he's such a pleasure to have about – he's got a wonderful personality and is a pleasure to ride and work with.
It was our first trip to Millstreet as we usually go to Blair Castle, but it would certainly be one we will come back to another time as the event was great. There were lots of options in terms of tracks and classes and the first two phases were on a surface – I just wish it wasn't the same weekend as Blair so we can do both!
Another bonus of the trip was to have Urssie with us as it is so hard to find gaps in her vaulting schedule for her to come away with us. It was extra special to have her with us. She even managed a small interview for the ERM TV which I thought she did very well.
Next stop is a few days at home before heading back over to Ireland to do my job as a selector for the Monart Sale which takes place later in November.
Cheers,
Bill
Posted 24th August